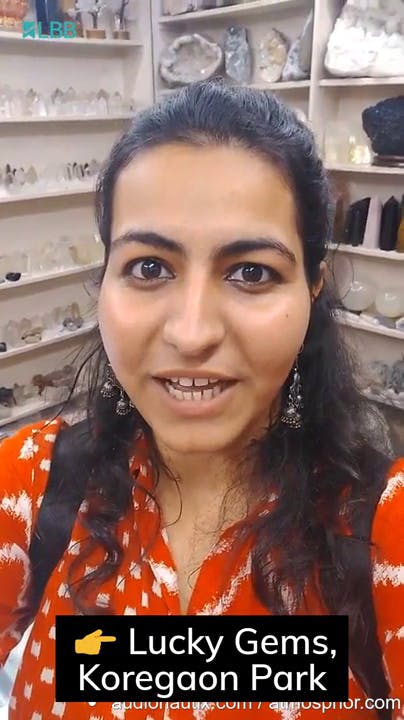 Antiques, Silver Jewellery & Crystals: 5 Items We Loved At This KP Store
Shortcut
Whether you're looking for antique home accessories, real silver jewellery or are mesmerised with colourful crystals, Lucky Gems on Koregaon Park's north main road is ideal to shop at. At the back, there's a room full of crystals big and small. We even saw massive crystals that probably weigh as much as 200 kgs. There's a lot to pick up from this store, but here are some items we loved.

Crystals and Crystal Balls
Whether you believe in the power of crystals or want to channel your inner psychic. Shop here for crystals of different find colours, shapes and sizes that are rare, and have been brought from the Himalayas, Orissa, southern India and other parts. Natural form crystals are also polished into their ball shapes and project various energies depending on what quartz you're buying. The crystal balls are priced as per weight at INR 1 per gram.
Antique Door Knockers
If you're planning to make your door look regal, add an antique knocker. We found several animal-head shaped knockers at the store. Starting at INR 1000, you can buy a lion or elephant head and pretend you're royalty. They work great as art pieces around the home too. If you're a beginning to become a collector of antique, you definitely need to add this to your collection.

Antique Locks
Secure your home with various animal-shaped locks. They are big, heavy and super secure. It'll give you the feeling of living inside a wada or a fort or at best, give your home that antique touch. Starting at INR 1000, these will look gorgeous on your door or as showpieces in your home.

Jewellery Boxes
Want an antique touch on a budget? Pick up jewellery boxes starting at INR 300. We loved an orange-tan box that looked like an old treasure chest and a purple and white box that'll be apt to store trinkets in. They come in all kinds of sizes, so you can pick the one that'll look best on your dresser.

Silver Jewellery
Priced as per the silver rate, the jewellery here may be limited but you'll spot some earrings, necklaces and rings that have antique designs. Don't go expecting contemporary work, that'll be rarer to find. But, we spotter earrings with a pretty blue stone and a bracelet with tiny horses on the band.

Ask Junisha a question