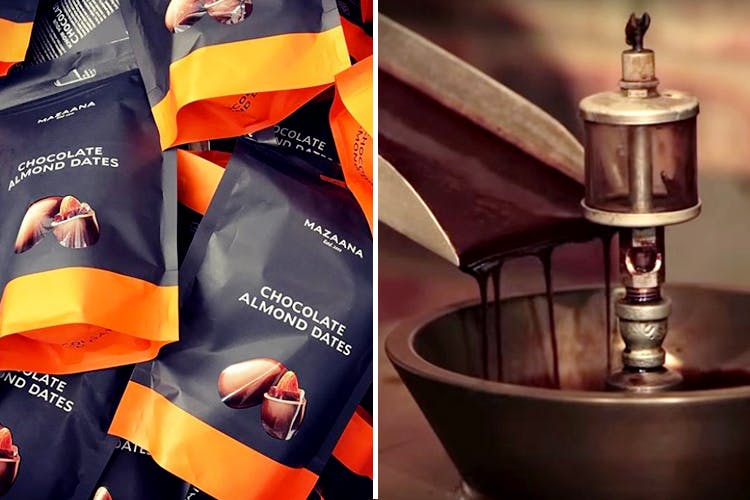 Did You Know There's A Huge Chocolate Factory Just 3 Hours Away From Pune?
What Is It?
Relive your Charlie and The Chocolate Factory moment at Maazana in Panchgani, about two and a half to three hours from Pune.
How Do I Get There?
If you're heading to Mazaana Chocolate Factory, we recommend you drive down. The roads are smooth, don't have traffic and the views are breathtaking. Leave early and take NH48 to Panchgani – Mahabaleswar Road in Gureghar, to cut down your travel time at least by an hour. Check this map for more information.
What Is So Unique About It?
Located inside Mapro, Mazaana Chocolate Factory produces over 11,000 kgs of finished chocolate products every hour. From nutty chocolate pops to decadent dark cocoa bars, they have it all. We were enthralled by the very fragrance of chocolate that greets you.
As we entered Mazaana, we saw the place was neatly divided into different units. Not very overcrowded, every section inside the outlet is impressively synchronised; while at one side we could see the cocoa beans getting sorted, another huge pan-like machine at the further end was dedicated to making and mixing thick chocolate liquid.
If you are a die-hard chocolate fan, Mazaana will be a dream come true! From watching chocolate bars getting made and neatly packaged for final distribution to nuts getting coated and polished in white and milk chocolate inside a huge roller, this one-hour factory walk is definitely worth your time and a must-do when you're in Panchgani.
The good part is you do not have to pre-register to visit the factory or pay an entry fee. Also, don't forget to stock up on Mazaana chocolates before you leave the place.
So, We're Saying...
No plans for the next long weekend? How about the memorable chocolate walk out here?
Comments