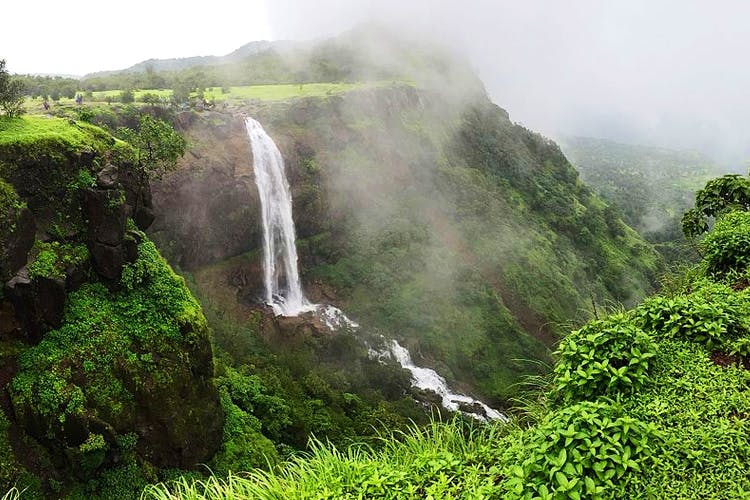 Crave Adventure? Embark On A Thrilling Trek To The Madhe Ghat Waterfall
Shortcut
Situated 62km south west of Pune near Raigad district, the Madhe Ghat Waterfall Trek is a perfect monsoon one-day getaway amidst erstwhile forts, lush green hills, meandering rivers and waterfalls.
What Makes It Awesome?
The Madhe Ghat trek is fairly simple since it completely descends down to a valley. It is about 850 meters above the sea level and situated in dense forests behind the Torna Fort. On a fogless day, you can also spot the Raigad Fort, Lingana, Varandha and the Shivthar Ghats.
Further, if you descend down the ghat, the road will lead to you a forest trail. Make sure you walk a couple of kilometres and reach a small jackfruit plantation patch. The villagers are courteous and they also let you taste and take a couple of jackfruits.
There are two routes to reach Madhe Ghat from Pune – either through Pabhe Ghat or by the NH-4 highway. We suggest you drive through Pabhe Ghat, simply because of the panoramic views of the Khadakwasla Dam, Donje Phata and the small villages of Khanapur, Velhe and Kelaad. Since the place is untapped with few explorers and trekkers visiting it once in a while during monsoon, the condition of the roads is not quite good. It's a muddy route that reaches till the waterfall.

Pro-Tip
Don't wait too long to go on the trek. The Western Route at Karve Road is hosting the Madheghat Monsoon Madness Trek, this Saturday, July 22. Cost is INR 1,200 per person and will include travel charges, breakfast, lunch and evening snacks.