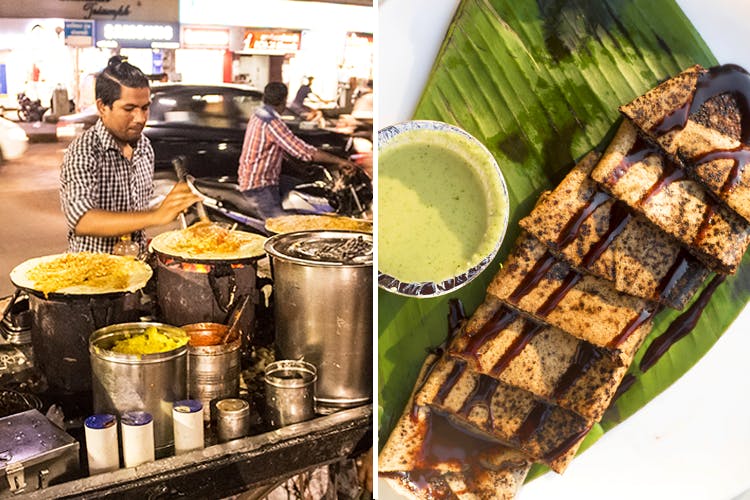 Mankar Vs Ravi: Whose Bizarre Dosa Varieties Do You Love More?
Shortcut
When it comes to unique dosas in town, nothing beats the varieties at Mankar and Ravi Famous. While both serve almost over 40 different kinds of dosa, who do you think does it better? We at LBB tried them both and here's what we thought.
The Big Debate
Located near Axis Bank ATM at Dutta Mandir Chowk, Ravi Famous Dosa Centre is quite the hit among students living in and around Viman Nagar. The reason is pretty simple – scrumptious and unique dosas! Priced between INR 20 and INR 120, Ravi's dosas will leave you spoiled for choice. From Maggi dosa to American chop suey, paneer bhurji, noodles and Kerala cheese dosa, Ravi gives a whole new definition to South Indian cuisine.
His pav bhaji dosa for INR 50 and the paneer chilli dosa for INR 100 are a must-try! If you're still hungry, go for the cheesy pizza uttappa for INR 90.
While Ravi Dosa is all about street food made in a tiny cart, Mankar Dosa boasts of four outlets in Pune, with courteous staff and comfy seating areas. For those who have stayed in Pune for a while, are quite aware of the dosa varieties at Mankar. Giving a desi Chinese twist to the dish, we recommend you try their schezwan cut masala dosa for INR 65 and the butter spring cut dosa for INR 80. If you're a big fan of white butter, must-try the loni sponge dosa for INR 45.
However, the one dish that walks away as a winner at Mankar, is definitely the cheese chocolate dosa for INR 85!
The LBB Verdict
When it comes to ambience and hygiene, we think Mankar Dosa does it much better. Besides, their chocolate dosa is worth every penny. However, when it comes to the taste and experience, Ravi Famous Dosa takes away the crown. As for us, we are slightly tilted towards Ravi's.
{Calling all brides (and their tribes!) – From clothes to gifting, get all your wedding inspiration here. #HitchedWithLBB}
Also On Ravi Famous Dosa Centre
Comments