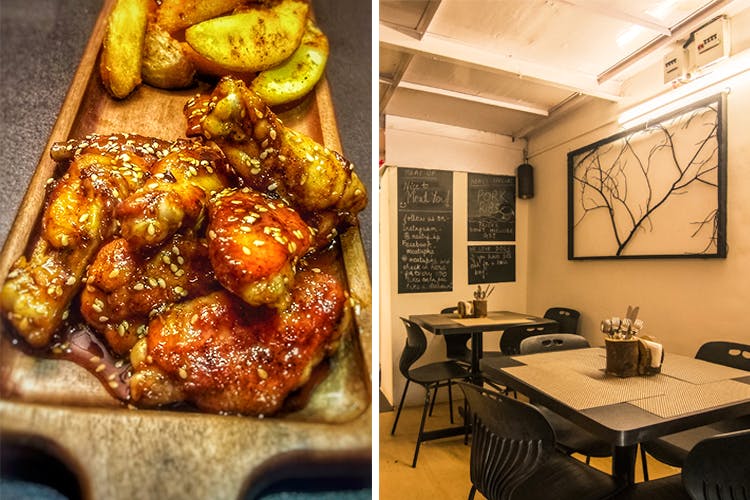 Delivery Available

Wi-Fi Available
There's A New Steakhouse In KP Where Hunger Meats Happiness
Shortcut
Tucked in Lane 5 at Koregaon Park, we came across a charming little steakhouse – Meat Up opened perhaps a month ago.
Going by the name, it's rather obvious that the menu predominantly consists of lip-smacking meaty dishes; from slow-smoked pork ribs to Mediterranean chicken cooked on charcoal and wood. What we loved the most was our hot plate of chicken wings, smothered in honey sesame sauce, and served with a side of salad and dip. You can go for other sauce options including soy glaze, piri piri, BBQ, jerk and chilli lime.
Coming to the special skewer menu, we highly recommend you try either their Yakitori pork or spicy tikka chicken. Vegetarians, don't feel disheartened quite yet. Meat Up has the tastiest roasted potato stuffed with mushrooms and spinach, and grilled corn-cheese with chilli and lime. Besides, we hear they will be adding new dishes every two months, depending on the season and availability. So keep an eye out for fish-based and exotic veggies that will be listed pretty soon.
The space, on the other hand, is full of vibrant colours, beautiful murals on the wall, artwork for sale, bamboo curtains, hanging lanterns made of recycled beer bottles and outdoor seating with comfortable chairs. Meat Up is the kind of neighbourhood cafe where you can have conversations with your gang for hours over a soul-satisfying meaty meal.
So, We're Saying...
If you're craving for affordable meaty dishes, this is hands-down the place to be!
Comments
Delivery Available

Wi-Fi Available