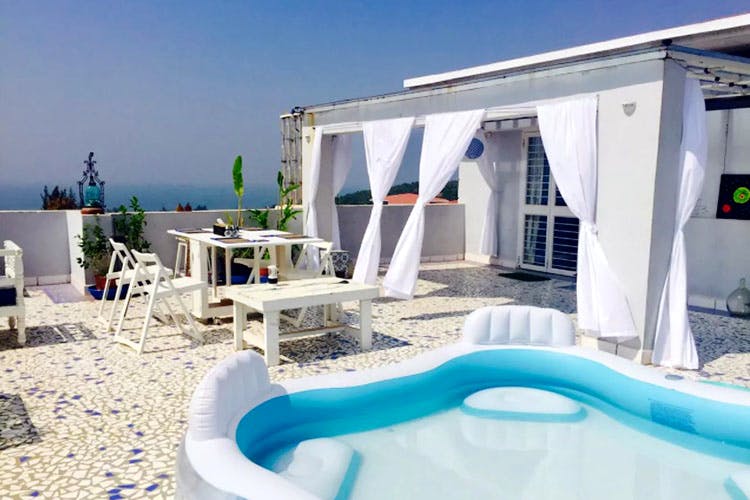 Gang Of Four? This Mediterranean-Themed Terrace Homestay Will Just Cost INR 1,300 Per Person
What Is It?
Amidst the mesmerising view of the Arabian sea and the dark dense Konkan forest, we found the most beautiful homestay, The One at Malgund in Ganpati Pule.
How Do I Get There?
The One is located at a quaint lazy village of Malgund, which is about six and a half hour away from Pune via NH48. We recommend you go through Niwali, to cut the journey short at least by an hour. The drive is long but extremely beautiful. Click here for more deets.
What Is Unique About It?
The One is an exotic Mediterranean-themed homestay, painted in pristine white and blue colours. There are two terrace bedrooms with tall windows and doors, elegant aqua and olive decor, silk curtains, artsy antiques, Instagram-worthy poster beds with romantic lacy falls and awe-inspiring painting. We, personally, loved the terrace, which is a work of beauty. Overlooking the panoramic view of Malgund, the terrace has a quirky mosaic flooring, a seating area with comfy lounge chairs and well-maintained potted plants on the side. The property can accommodate four guests at a time, and is equipped with two baths, a kitchen, a smart TV with a WD media player, air conditioning and an iron. For more details, click here.
Anything Else?
Take a long holiday, head to The One with bae and get a full-blown Mediterranean experience at The One!
Comments