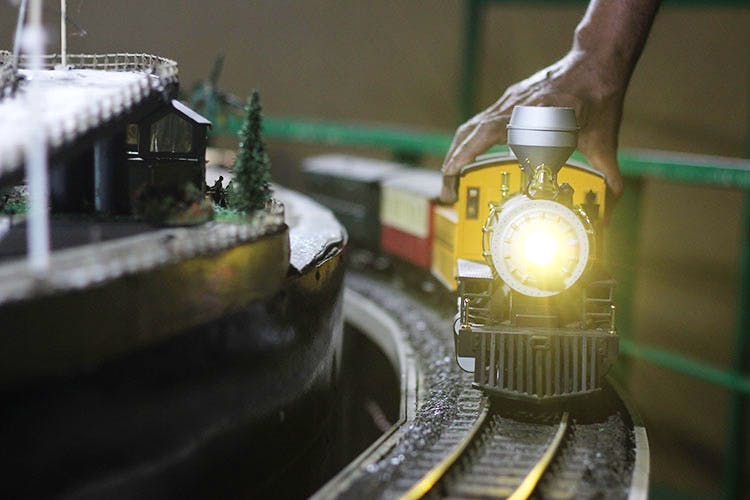 From Miniature Cities To Vintage Cycles: Incredible Museums In Pune You Need To Visit
Who doesn't love a little bit of history?!? Which is why we've put together a list of some of the most interesting museums around the city. The next time you're looking to do more than just going out for lunch, stop by at any of these for short trip back in time!
Joshi's Museum Of Miniature Railways
Pocket-sized steam engines, flyovers, swimming pool, lamp posts and even a tiny circus! The 26′ x 26′ hall inside the factory of Soudamini Instruments at Kothrud – Joshi's Museum of Miniature Railways, boasting of its minute yet intriguing details, is India's only miniature city that has found itself a mention in the Limca Book of Records in 2004. Started in the year 1998, the museum is a creation of B.S Joshi, who as a child, collected model trains and made miniature figurines out of cardboard. There are working models of trains with a length 10 to 15 inches. There are 65 signals, fences, lamp posts, flyovers that have been handcrafted, using chemical etching techniques. So if you love trains and miniature cars you must visit the place. To know more about the museum, read our recommendation here.
Keshavrao Jagtap Museum
Opened in the year 2016 in the premises of Erandwane fire station, Keshavrao Jagtap Museum is Maharashtra's one-of-a-kind museum dedicated to the Fire Department. The museum houses the vintage Rolls-Royce Dennis fire brigade that was used in 1961 Panshet Dam rescue operations. The wooden racks boast of a carefully curated collection of old rusty helmets, fire proximity suits and lamps that date back to the early 1930s. Some of the antiques have been sourced from fire departments across the country. The entry here is free and you can read more about the place here.
Vikram Pendse's Cycle Museum
Vikram Pendse's cycle museum, located at a quaint Karvenagar bungalow, will not only get you nostalgic but will leave you awestruck with its unique collection of everything vintage and wonderful. The place boasts of over 150 collectables – from geared racing cycles to children's bicycles, tandem bicycles, cruisers, beach cycles, erstwhile cycle ads, nuts & bolts, tyres, spare parts, gears, seats, dynamos, air pumps, lamps and many more. The oldest of the collection lot is the 1914 All-Black Golden Sunbeam Tricycle, first manufactured in England, around the time of World War I. If you can't wait to check the place and want to know, check out our recommendation here.
Sunil's Celebrity Wax Museum
This one isn't really in Pune and is located on the old Mumbai-Pune highway. However, we really couldn't skip this one from the list. While you might not believe us when we say this, but we've got out own version of Madame Tussauds right close to home! At Sunil's Celebrity wax museum, you get to see famous faces such as Shaktiman, Subhash Chandra Bose, Anna Hazare and many others. You will also spot some International celebs and leaders such as Abraham Lincoln, Elbert Einstein and Bruce Lee, among others. You can stop by for a quick laugh and an amusing time by paying just INR 200 per person.
Comments