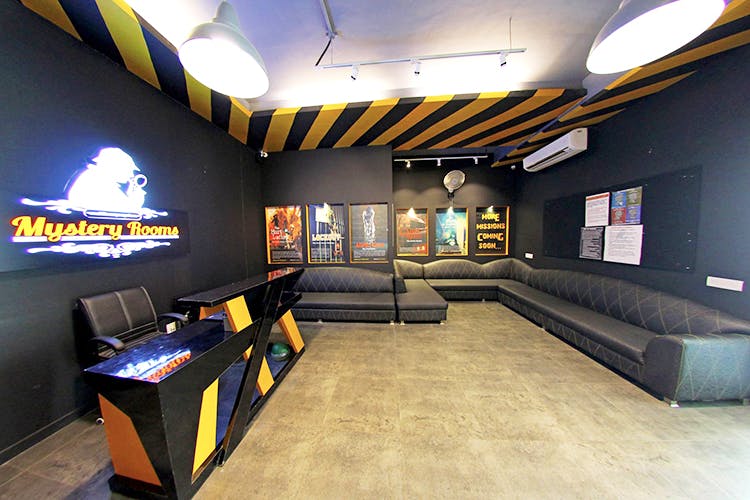 An Abduction, A Murder Conspiracy & More: Be A Part Of A Mission At The Mystery Rooms
Shortcut
Bring out the Sherlock in you and experience the thrill of a live escape adventure at the Mystery Rooms in Koregaon Park. Tag the gang and get going already!
Tell Me More
Mystery Room is a team-based puzzle solving adventure trail where the objective is to get yourself out of a theme based room within 60 minutes.
The concept is unique and andraline inducing! Imagine this. You're locked in a dark thrill space with your team and all you have to do is use logic, find clues and pave your way out of the room!. The activity is very safe and doesn't include any sorts of horror elements. Suitable from ages 10 to 77, Mystery Rooms is inspired from the super hit internet game, the 'Room Escape'.
Build a team of two to eight members. Then, book your challenge based on the difficulty levels. If you want to start easy, choose The Hurt Locker-A Bomb Defuse Challenge. If you're a pro and want to test your senses, go for either Lockout- A Prison Break Challenge or the Abduction – The Final Hour.
The price varies depending on the day and your team size. On weekends and public holidays, a team of two will cost INR 1,000 per person and a team of more than four members will cost INR 800 per person.
On weekdays, a mission for two will cost INR 900 per person and a mission of more than five will cost INR 600 per person.
So We're Saying...
At Mystery Rooms, the more the merrier. Bring the whole gang, wear your thinking caps, solve the mystery and come out as legends!
Comments