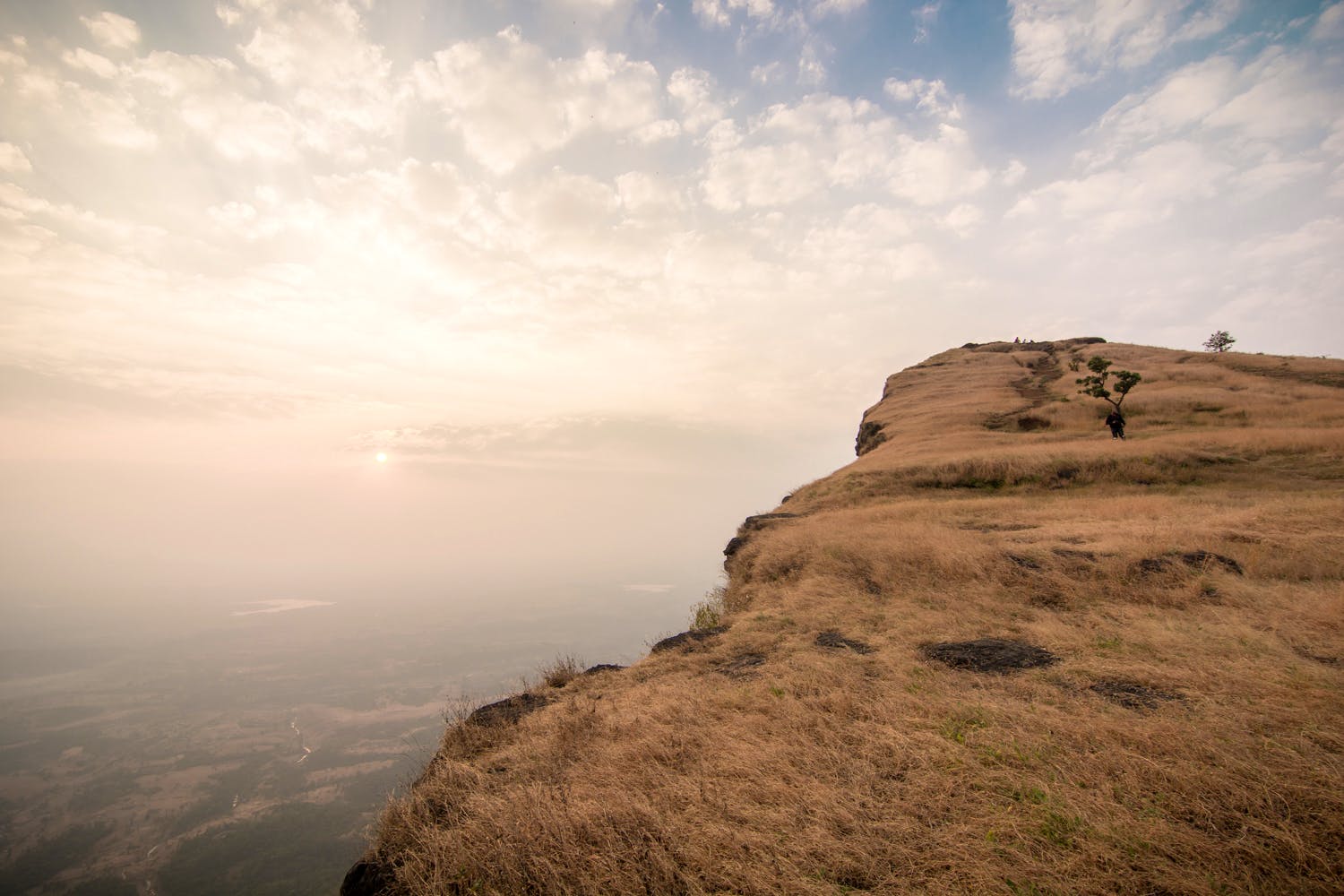 Bitten By The Adventure Bug? This Trek Is Easy To Do & Leads You To A Killer View
What Is It?
Naneghat is a mountain pass and an ancient trade route between Kalyan and Junnar. The name 'Naneghat' literally means 'coin' (nane) 'pass' (ghat) - as traders and travellers had to pay a toll when passing through here. It offers splendid, lush green views that are best experienced during the monsoon season.
How Do I Get There?
Naneghat is located around 120km north of Pune, and it'll take you around 3.5 to 4 hours to get here by road. We suggest you Google-Map your way to 'Naneghat Trekking Point' by car and then carry on on-foot from there. Alternatively, you can also take a State Transport (ST) bus heading from Pune to Kalyan (via Malshej Ghat only) and get off at 'Naneghat Gumfa Marg' - which you'll be able to spot around 15-20 mins after Malshej Ghat ends.
What's So Awesome About It?
The trek up Naneghat is moderately easy - and definitely do-able even for novice trekkers. It should take you around 3 hours to go up, and 2 hours to come back down. There's a cave at the top - lined with inscriptions and relics, but not well-maintained. Steps, rock-cut 'rest houses' and cisterns all have historical significance - dating back to as early as 1st century B.C.! Enjoy a picnic in the cave, or dig into steaming-hot poha from the nearby village. The plateau is good to explore and offers stunning panoramic views. We recommend you start your trek super-early and wind up by lunch-time.
Night-trekking and camping are also permitted at Naneghat, but we strongly recommend you partake in these activities with a guided group tour only. The cave floor is wet, and it gets very cold at night. In case you'd like to stay nearby - there are home-stays and resorts as close as Malshej.
Don't Leave Home Without..
There aren't too many eateries at Naneghat - so do carry your own dry snacks and sufficient water supply. Don't forget to wear appropriate footwear and a rain-cheater. Carry a dry change of clothes, a torch, mosquito repellent, and a power bank. If you plan to camp here, remember to bring your own tent and sleeping bags.

Anything Else?
Travel and adventure groups like Treks and Trails India, Explorers Treks & Tours, Thrillophilia, Adventures365 conduct guided treks and overnight camping at Naneghat - so look them up if you'd rather do this with a professional guide. Critters like crabs, frogs, snails and snakes also around - so be careful where you tread. Naneghat is also popular during the winter season, as it makes for a great stargazing spot at night.
Comments