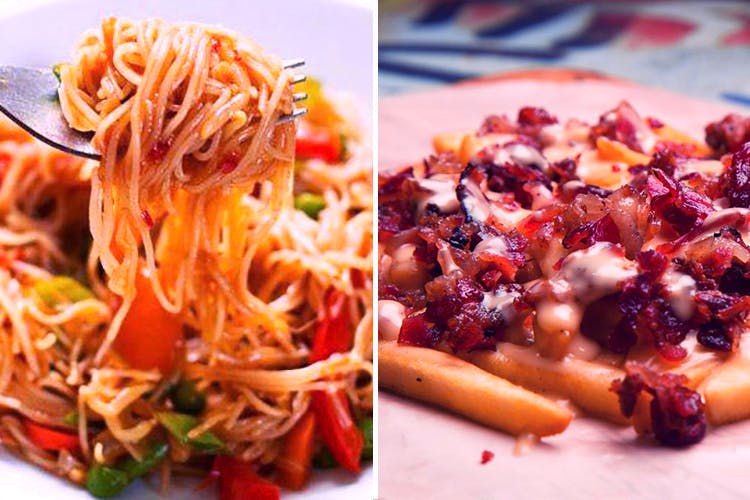 Italian, Indian Or Oriental: Get Your Favourite Cuisine At These Restaurants For Under INR 500
Ten-Second Takeaway
There are a lot of things about Pune that you'll discover during your stay here, but initially, maybe you could use a little help just getting a hang of things. Enter, LBB. It should come as no surprise that there are some really great eateries in the city, a bunch of different cuisines to relish and across various price ranges. So, here's (a few of our many) favourite restaurants across various cuisines so you can enjoy a sumptuous meal for under INR 500 per head.
Squisito
If you're in the mood for some good Italian food, the pastas at Squisito shouldn't go amiss especially the Pasta Barberesca (INR 465). Some of our other favourites were the stuffed garlic bread (INR 185), the pita bread (INR 285) and the cheese fondue (INR 450). And don't worry if the menu has you confused. The super-friendly staff is more than happy to help with recommendations. And even if you're a non-vegetarian devourer, head to Squisito because the taste & service quality are sure to leave you saying 'Mamma mia!'
Mexican Rodeo
When the cuisine is in the name, you should have good reason to give it a shot! Mexican food if tantalizing on the palette with pronounced tanginess and adequate spice. And the food truck scene in Pune is still pretty nascent which makes it a different experience. Mexican Rodeo has a couple of outlets in Pune – one in Kalyani Nagar, and another in Aundh at Westend Mall, but we prefer the food truck much better. Their Nachos and quesadillas are delicious and we also loved their Burrito bowls. Most of their main course falls within INR 120- INR 220, based on what you order and with the taste right on the money, what are you waiting for?
Chinese Room
This oriental cuisine restaurant has been around for over 40 years now, and in all that time, most Puneris will claim that it has sustained the glory of the years gone by, something that can be said of very few restaurants in the city. The variety they have in chicken and prawns is rarely paralleled by another outlet in Pune, and personally, their Chicken Satay, Chilli sesame prawns/chicken and burnt garlic rice left us asking for more. Also, check out their Fish Mongolian. The portions served are pretty big, so don't order too much at a go (and don't worry, in most likelihood you'll want to come back). With most of their main course dishes priced around INR 300-400, we thought it was totally worth how good it was. So grab a friend and head straight here, and don't worry about parking, they have a valet service!
The Burger Barn Café
Burger cravings? Hit the Burger Barn Café in Koregaon Park (they also have outlets in Shivaji Nagar and Kothrud, but we liked the one in KP the best) with the gang and hog to your heart's content because the burgers here are absolutely delicious, and fully paisa vasool! We loved their Barn Ultimate Fries (INR 145), the Barn BBQ Chicken Burger (INR 130) and the Barn Fiery Fillet Burger (INR 130). They also have combos, sandwiches, hotdogs, pastas and thickshakes. Basically, a whole lot of food to choose from! The best part: the filling in the burgers is so generous and doused in rich, flavorful sauces. Oh and on days when you're feeling competitive or when the monster in your belly has awakened, take the WTF burger challenge – a two-kg burger that's so big it has a skewer holding it in place, served with fries and a shake and it's all free if you can finish it in 20 minutes!
Aaoji Khaoji
After you've tried cuisines from around the world, it absolutely wouldn't hurt to get a taste of the food closer to home, so if you're looking for some hearty, good old paranthas, a good fill of dal makhni or some lip smacking choley, head straight to either of Aaoji Khaoji's two outlets in Pune (Khadki and J M Road) and eat to your heart's content without the anxiety of an exhorbitant bill. They have tiranga paratha thali (INR 500 odd), king-size paratha thalis ( INR 500 odd) and standard paratha thalis (INR 200 odd) for hunger pangs of different intensities. Even if it's a veg only place, it'll make you realize how much your soul needed some 'ghar ka khana' sort of food and that there's more to the love of north Indian food than only Butter Chicken.
Comments