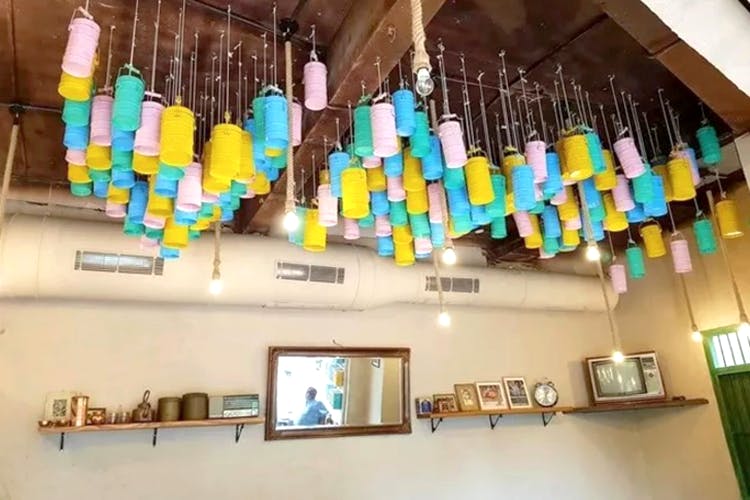 Funky Decor, Fusion Food & Gourmet Desserts: What We Love About Karkhana
Shortcut
Quite contrary to what the name suggests, Karkhana is rather fancy- a total mood-lifter with its quirky bright decor, delectable fusion food, courteous staff and an overall good vibe!
Tell Me More
Imagine this. Stainless steel dabbas coloured in yellow, pink and blue hangings from the wooden ceiling, shelves full of antiques, including an erstwhile Murphy television and radio, brass kettle and earthen twin jars, a white brick wall full of contemporary posters basking in bright lights and a cute olive green window overlooking nothing – the ambience at Karkhana is joyous, full of life and vibrant.
The eight-page menu is an assortment of everything awesome. We particularly loved the grilled lamb kebabs served with tzatziki and chimichurri dressing and the cheesy nachos with curd and chutney. If you love your food fiercely spicy, try the bhut-jolokia chilli garlic prawns. Burger lovers, their mushroom and cottage cheese burger and flame grilled mutton burger are a must-try! Wash down your meals with raw-pressed juices- carrot and orange, lemon and mint and watermelon and basil.
End this scrumptious treat with the Karkhana desserts. Our recommendation is the de-construted banoffee pie served with toffee sauce and chocolate ganache and the home-made mint berry & paan ice cream.
So, We're Saying...
Karkhana is worth a try! Tag the gang and chill at this supercool place that serves up yummy range of fushion food.
Also On Karkhana - The Food Factory
More Information
Karkhana - The Food Factory
Comments