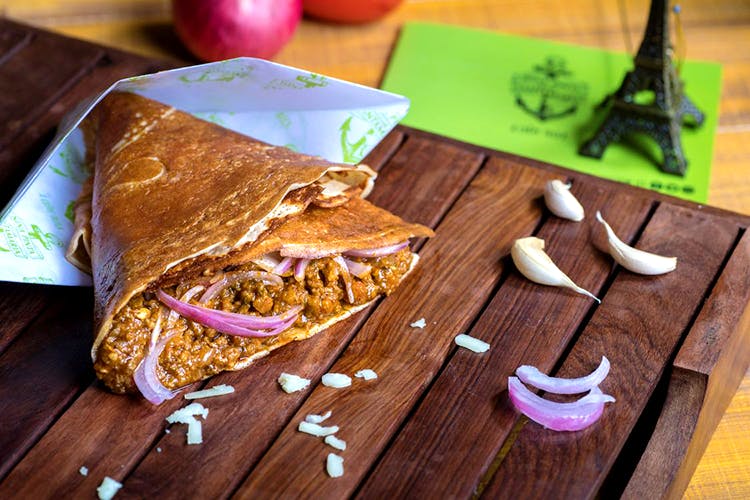 The Desi Twist To These French Crêpes Is Reason Enough To Visit This New Food Truck
Shortcut
Nina Pinta Santamaria is a new food truck, located on Aundh-Baner link road. Unlike their name – the food served here is French crêpes with 'an Indian twist', as food entrepreneur/owner of the truck Soham tells us.
Tell Me More
The food truck is named for Columbus' ships – Nina, Pinta, and Santamaria – that were meant to reach India but ended up in North America. The food may be a bit unconventional, but we hear it's worth your while. There are both sweet, and savoury crêpes on their menu. Start with the savoury crêpes – try the 'Mushroomay' crêpe, filled with mushroom, spinach, and corn in a basil-tomato sauce. Meat lovers, order their 'Mutton ki Baat': a spicy mutton kheema and onion filling, and the 'Chicken Puneri' crêpe – with a chicken and onion masala filling, in a mildly spicy semi-gravy. End your meal on a sweet note with their Banoffee crêpe – Argentine dulce de leche with sliced bananas, cookie crumbles and whipped cream, or 'Death by Chocolate' – loaded with chocolate crumble in a ganache, smothered with whipped cream.
Anything Else?
The truck is only operational from 6.30PM to 11.00PM, Wednesday to Sunday. There are small stools for roughly ten people to be able to sit, but they're almost always crowded, so don't count on getting space to sit.
Also On Nina Pinta Santamaria
Comments