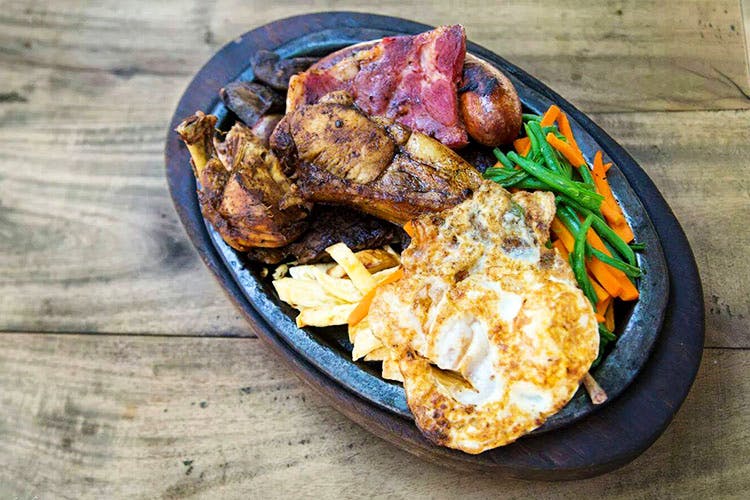 4 Restaurants Every Meat Lover Needs To Have On Their List In Pune
Calling out all hardcore carnivores! Pune as a city has diverse cultures and ethnicities which has given birth to many different restaurants and food joints. If you are fond of experimenting with food and are a complete meat fanatic, then these four restaurants are your haven!
Cafe Goodluck
Established in 1935, Cafe Goodluck has been a household name for breakfast for all Pune-ites. What most people don't know enough about is their amazing selection of mutton dishes. From brain fry to mutton keema fry, they nail everything to the point! The food is not overly greasy and the meat's quality is so good that it just melts in your mouth. Try their chicken and mutton kebabs as well, they are scrumptious! Being located in a college area, the rates of these dishes are reasonable, which makes it affordable for all.
If you are there on a weekend, make sure you have some extra time as the waiting time goes up to an hour. But once you are seated, you'll know the wait was worth it.
Radio Hotel
Tucked in the busy lanes of Shivaji Market, is this gem of a restaurant called Radio! If you are a fan of beef kebabs and curries then Radio is the place for you. Their beef chilly fry is what the city raves about and they are not wrong. Priced at just INR 80, their beef chilly fry serves two people. It's mildly spicy and the beef is tender as hell! Team it up with their soft parathas and enjoy a hearty lunch that you won't get over easily.
Baghban Restaurant
If you are a Pune food loyalist then Baghban isn't a new name for you. For years, they have been known for their Mughlai Cuisine, especially their kebabs. However, if you are a hardcore carnivore, do not miss out on their mutton dalcha! It is a famous Hyderabadi side-dish slow cooked with meat and lentils. It is served with yellow rice and can serve four people in one serving. The dalcha has a rich flavour whereas the rice is aromatic, which makes this dish the best treat for a hearty dinner. If you are at Baghban ordering a Dalcha, make sure you have enough room in your stomach because you will for sure be wanting more than you can have!
Zamu's Sizzlers
If you haven't heard of Zamu's Sizzlers in Pune, then you have definitely been living under a rock! Touted as one of the first sizzler joints in the city, Zamu's has been a favourite for many years now. The ambiance is perfect for a dinner date or a birthday celebration and the food is to die for.
They have a vast collection of sizzlers but what makes them stand out is their option of making your own one. You can choose from a selection of sauces, meat and sides and whip up your desired sizzler starting at INR 550. Even though the rates of the dishes are on the higher side, the portions are massive enough to feed two people. Don't forget to try their in-house garlic dip. You'll surely want more of it!

Ask Sohini a question