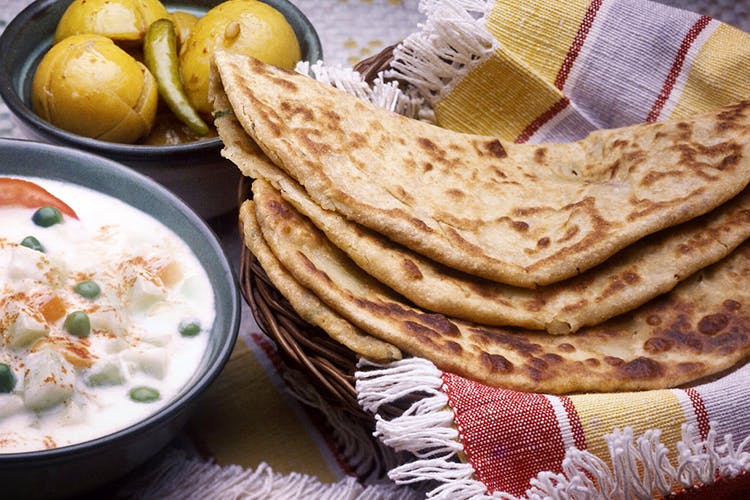 Satiate Your Murgh & Naan Cravings At The Best North Indian Restaurants In Pune
The butter chicken or the stuffed paratha that we've all savoured with a glass of chach or thick and creamy lassi on our trips to Delhi or Lucknow or Amritsar have set a benchmark for authentic North Indian delicacies.If you have been missing them, head to the best restaurants for North Indian food in Pune.
The Great Punjab
There is no other feeling that describes happiness better than tender pieces of chicken melting in your mouth. At The Great Punjab sample lip-smacking kebabs, mouth watering gravies made with paneer, mushroom, or meat. This restaurant will serve it all on a platter of happiness. With a sophisticated ambience and an experience one shall cherish for long, the higher-end prices on the menu are not something you'd mind at all. We didn't, for sure.
Nawab Asia
If you ever wish to visit the Nawabi shaan right here in Pune, the Nawab Asia in Baner is just the right place for your gourmet desires. The grandeur and the majestic vibes, makes for an amazing fine-dine experience. Elegance shines through the lighting and the wooden finish of the walls. One can barely keep their jaws from dropping when the waiter serves the kebabs and biryani. The mushrooms are known to be deliciously well-cooked. This restaurant with decent prices is not just a treat to the meat-lovers but also takes care of the vegetarian cravings and hunger pangs.
The Urban Foundry
Even if it's a Saturday morning when you jumped out of bed, or a dinner date with your friends, you may want to make reservations. This restaurant is always packed and buzzing. With the outdoor and indoor seating, the space has the feel of an old warehouse and funky frames all over. The chandelier is indeed a sight to see. What's most attractive and exceptional about this restaurant is its presentation of the dishes ordered. Right from unique plates to the way kebabs are served to look like screwdrivers, this is one hell of a creative eatery. The butter chicken and kebabs with an impressive variety of cocktails and mocktails, The Urban Foundry on Balewadi High Street must appear somewhere on the top five of your go-to joints in the city.
Prem's
Always buzzing with customers at any time of the day, Prem's is one of the oldest restaurants in Pune located in Koregaon Park. With outdoor seating and candle-lit evenings, this restaurant becomes a must-visit place if you're out on a romantic date or even out with your family. With a long menu, and a lot of options to choose from from the North Indian cuisines, Prem's offers the kind of quality food one may struggle to find elsewhere. Although slightly high-priced, it is totally worth it. Varieties of curries, be it chicken, mutton, or paneer, Prem's will make you love it all.
Shahji's Paratha House
For your paratha cravings that must be pampered with authenticity, Shahji's Paratha House welcomes you with its home-like ambience. Numerous kinds of parathas, gigantic and stuffed, make a good deal for your brunch diaries. Thalis are also a specialty of this place apart from the parathas and naan and a variety of curries to choose from. Rajma chawal and multiple kinds of beverages like chaach and lassi are a treat for all you food enthusiasts!
Aaoji Khaoji
Since its commencement, Aaoji Khaoji has delighted everyone with their authentic Punjabi food. The restaurant, which has now branched into various outlets across the town, serves a number of delightful Punjabi dishes. You can indulge on their range of generously stuffed parathas, creamy and spicy gravies. The signature of this restaurant is their uniquely named thalis. These thalis are dedicated to a number of Indian celebrities such as Deepika Padukone, Sunny Deol, Dharmendra, Sachin Tendulkar and many more. Aaoji Khaoji is also known for their cheap prices. A meal for two here will cost you around INR 500.
Punjabi Dhaaba
Located in Viman Nagar, this humble restaurant is extravagant when it comes to their Punjabi food. The restaurant, is known to serve authentic Punjabi delicacies that taste as if it was made in a loving mom's kitchen. The restaurant is known for their vegetarian as well as non-vegetarian delicacies. Apart form that this place is also really generous with the quantity that they provide as compared to their food. A half chicken handi is more than enough for a group of four. A meal for two will cost you around INR 450.
Satguru's Punjabi Rasoi
Stating Magarpatta's cravings for authentic Punjabi food, Satguru's Punjabi Rasoi is a must-try when you are in that part of the city. The restaurant, apart from having fame for its authentic northern food, is also reputed for fast food. Living up to the Punjabi standards, this restaurant also serves alcohol with its food. Satguru's Panjabi Rasoi is known for its lassi, butter chicken, daal makhani, tandoori chicken, paneer musallam and chicken biryani. The restaurant is also pretty pocket-friendly. A meal for two including alcohol will be around INR 1200.
Chaitanya Parathas
With its six outlets across the city, Chaitanya Parathas is every student and broke person's favourite place to dine. The restaurant is known for serving some king-size parathas, which are generously stuffed, cooked to perfection and served with a dollop of butter. This place serves your traditional aloo and paneer parathas, but also has a few off-beat parathas as well.You must try out their Italian paratha that literally tastes like a pizza. This restaurant also serves thalis that are very fulfilling. The average cost for a meal for two over here is INR 350 only.
Rangla Punjab
Get the feel of dining at a highway dhaba at Rangla Punjab in Pashan. At the dhaba-style restaurant you can sit comfortably on their cots and indulge in their authentic Punjabi food. The restaurant is also located at two more locations in Pune. The restaurant is known for it's butter chicken, kebabs, murg musallam, daal makahni and rotis that don't turn into rubber once cold. The restaurant is also budget friendly. A meal for two over here would cost you around INR 800.
Comments