Nutella, Salted Fruitilla & More: Go Here For The Best Freakshakes Around Pune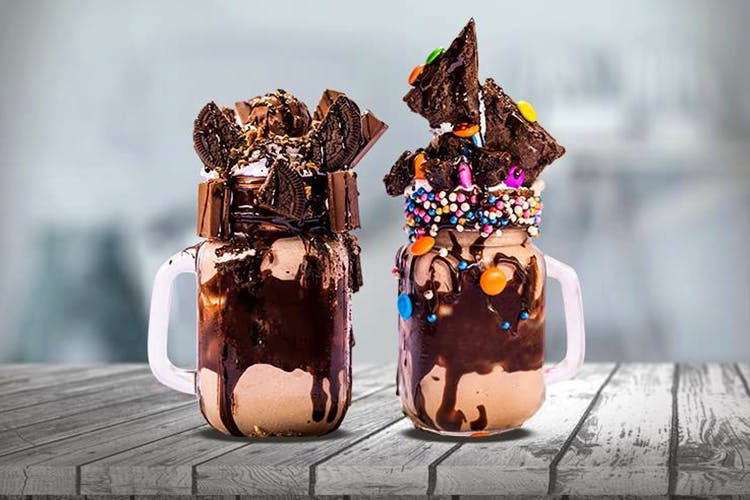 Ten-Second Takeaway
Crazy about shakes and ice-cream? Presenting the monstrous freakshakes that will make you and your Insta followers drool.
Between Your Buns
Not specifically as the name suggests, Between Your Buns along with their unique range of burgers and sandwiches, they also bring you a humongous jar of Nutella freak shake which you enjoy while sitting in the pleasant atmosphere at just INR 280!
Rasta Cafe
Your favourite oreo cookie becomes a freaky version of itself at Rasta Café which is thick, creamy and crunchy topped with oreo at just INR 240. Perfect for those of you that are die-hard Oreo fans.
Oh Freak
On the bustling streets of FC road, Oh Freak, brings a cool breeze of creamy freakshakes like cookie and cream, birthday cake freakshake and savoury candy overload all at INR 350 only!
Dinshaw's Xpress
With a variety of range in Parsi cuisine, Dinshaw's Xpress cafe also brings you some delicious freakshakes like chocolate turtle and Manhattan Black Forest at INR 250! The range of freak shakes will be available from next week to their patrons.
Cafe Meistzo
Cafe Meistzo along with their delicious shakes and coffees presents you with four — that's right, four different kinds of freakshakes like Nutty mocha, Salted Fruitilla, The Popcorn Shake and Minty affair all at INR 290!