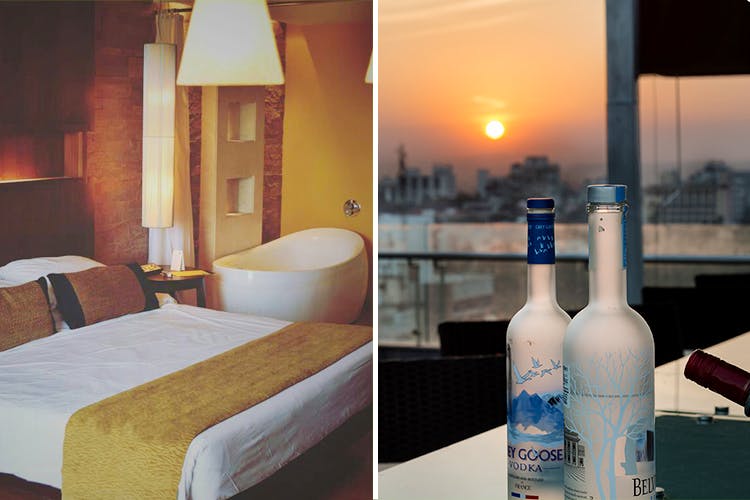 Roll Out Of Your Bed & Into The Bathtub: Bedrooms At This Resort Are Fancy AF
What Is It?
Walk down the poshest stretch across North Main Road in Koregaon Park and you'll notice The O Hotel with its striking beige structure and grand entrance, almost luring you in. Having said that, we decided to check-in at this iconic hotel for a luxurious (much-needed) experience and here's what we thought.
How Do I Get There?
The O Hotel is located near Ragvilas Society, beside German Bakery in Koregaon Park.
What Did I Like?
With its spacious rooms, top-notch restaurants and location right at the heart of KP, The O Hotel is perhaps an ideal place to stay in Pune, especially if you're on a business trip. As for us, we went to the O Club room – a sprawling 400-square-feet of sheer delight with plush timber flooring, a queen-size bed, mini bar and in-room soak tub! The hotel has three other kinds of accommodation – The O Deluxe, the O suite and the Presidential suite.
While the deluxe room starts at INR 4,500 per night, the O Club room starts at INR 4,769, depending on the availability and the season. Just in case, you're wondering the O Presidential Suite (that also comes with a complimentary couple spa and a wine bottle) starts at INR 22,499 per night. Barring the breathtaking rooms and the royal treatment, The O also has a gorgeous terrace pool with the most spectacular view ever. So this summer, take a dip!
Anything Else?
We absolutely loved O Hotel's in-house Japanese restaurant, Harajuku with a live Teppanyaki counter that served one of the best tai (redsnapper) sushi we ever had.
Comments