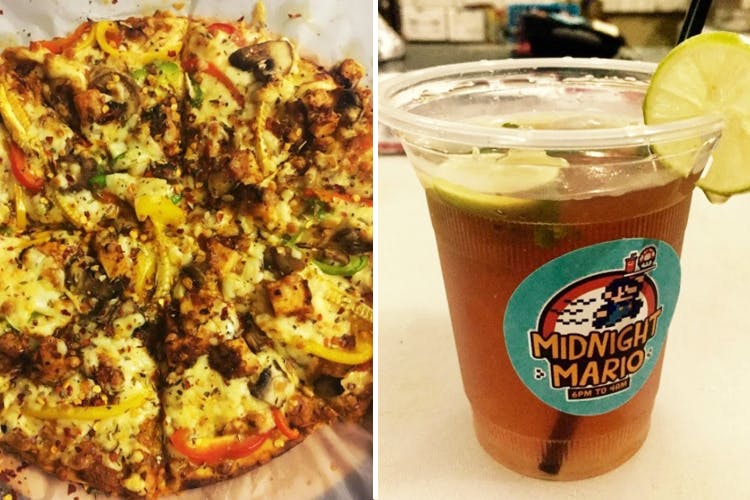 Post-Partying Hunger Pangs? Grab A Bite From These Eateries After 12 AM
Ten-Second Takeaway
After a super energetic evening that has spilled into your midnight, and left you tired of grooving and hungry for food, we know where you can either stop by or make a drunken call for a food-delivery!
Jashn
One of the most famous eateries that are up and bright even post 1 am in the middle of the city is Jashn. Located in Kondhwa, this restaurant serves a wide variety of cuisines on your platter for the hour you visit. With amazingly priced delicacies of Chinese, North Indian, and even a bit of the Iranian food, Jashn tops the list of places one must pay a visit after a crazy evening at a party. Although it isn't a fine-dine restaurant, it has a very 'let's catch up where we left off' vibe, what with a sofa and TV to relax when you do finish talking and begin hogging. The tandoori chicken is the most appreciated dish at Jashn, and we totally agree!
E'Hide Cafe
Right opposite the Symbiosis College in Viman Nagar, this cafe is among the few favourites of the students here. After a long day at college and the happy hours at the bar, Symbi-kids have begun to enjoy this new cafe that is open till 4 am. Although not very spacious, it sure serves to be a great eatery to grab a bite after an exhausting evening on the dance floor! With an extremely friendly staff and absolutely fair-priced dishes, E Hide Cafe gives a great experience post midnight. From pastas, sandwiches, subs, rolls to Indian cuisine including the combos, this cafe is a treat to those late night food cravings. Besides, to hydrate yourself, this cafe takes care of your longing of thick shakes, mocktails, and your caffeine rush!
Burger 11
For all those times when you've crashed on your bed after an evening full of madness at a party only to hear your tummy make those weird sounds indicating its need to be fed, we recommend you not to worry! Burger 11 at Kalyani Nagar is awake to satiate your late-night hunger pangs until 4 in the morning. With a bun so soft, the chicken patty so succulent and well seasoned, along with the generous serving of melting cheese in their burgers is an overwhelming experience indeed! The vegetarian cravings are also taken good care of. With a delivery at lightning speed, Burger 11 is must-call eatery for a quick delivery at your doorstep!
Midnight Mario
All you party-enthusiasts already at home after a crazy evening, heave a sigh of relief! Popular for its pizzas and burgers, Midnight Mario is an only-delivery restaurant open until 4 am, looking after your post-midnight cravings. From amazing thick shakes to continental, Italian, and Indian, be sure to make a call because you wouldn't want to lose out on great food so late at night. You'd further be impressed with the amazing packaging they deliver the food in. This place is definitely your late night hunger solution!
Sufi's
With a colourful ambience and cubicle shaped seating, or even small huts for those interested in enjoying their privacy, this eatery is a nice place to unwind with a group of friends late at night! Apart from the Indian and Chinese cuisines, this place also has a pool to keep your hunger pangs busy until your order arrives. Among the few places that offer sheesha or hookah, Sufi's at Wanowrie, gives a very pleasant experience after a fun evening at a party!
Comments