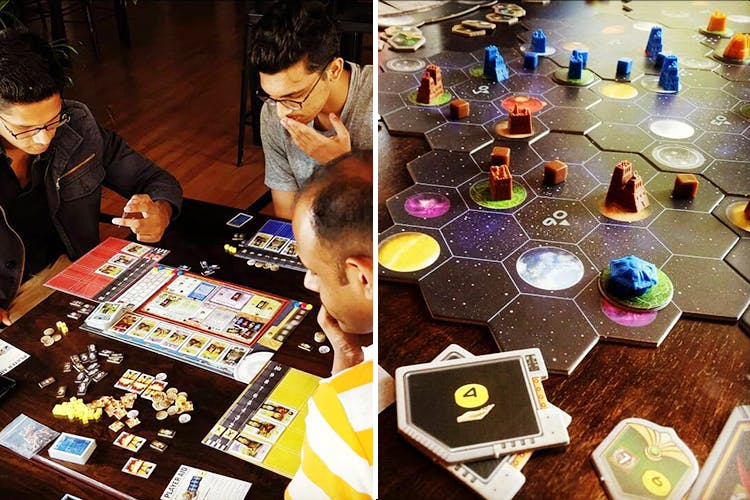 Did You Know There Is A Board Gaming Community In Pune?
Shortcut
Pune Board Gamers (PBG) is a community of table-top board game lovers, who routinely get together every week. Started in August 2014 just among friends, they now share their hobby with anyone who's willing to play a fair game.

What Makes It Awesome?
Pune Board Gamers has around 100 or so board games, card games, miniature games, and RPGs from India and around the world. Forget your usual Monopoly, Taboo, LIFE; PBG's collection spans Game of Thrones, Tzolk'in, La Citta, Terra Mystica, Settlers of Catan, Stone Age, Goa, Railroad Tycoon, and many more. If you're new to a game, don't worry about falling behind - PBG is very newbie-friendly and encourages you to build on friendly competitiveness, strategy, and analytical skills.
Anyone over the age of 16 is welcome to join in at their meet-ups or 'marathon gaming' sessions, which take place once or twice a week (and almost always on Sundays) at a café or restaurant in Baner/Aundh. Tables, games, and players are arranged on a first come, first-serve basis - and yes, there is a wait-list, so make sure to arrive on time! PBG doesn't charge any membership or entry fee - you'll only have to pay for the food/drink you consume at the venue of the meet-up.
What Could Be Better?
There is a limitation on the number of people (10 - 15) that can partake in each meet-up, due to experience levels, familiarity with the new games, etc. so we recommend you sign up with them.

Pro-Tip
Games can take between 15 minutes, to 3 hours to complete - so make sure to plan your time accordingly, as it is rude to leave in the middle of a game.

Comments