The information in this post might be outdated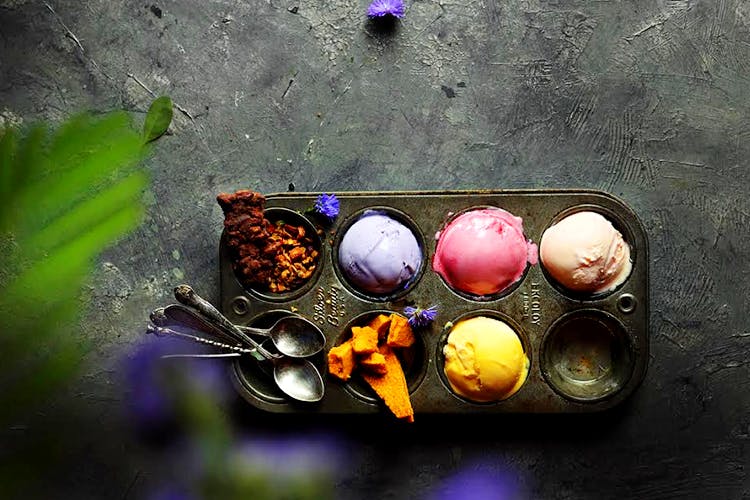 Punekars, You Gotta Listen Up! Huber & Holly is Offering Discounts Matching the Soaring Temperature!
What Is It?
Few things in life are better than a scoop of ice-cream in the summers. And this season, we have Huber & Holly to our rescue. This ice-cream parlor, which frankly is our favorite, creates freshly churned, creamy ice-creams. And to make the experience even better, they are running a summer campaign called #SummerStopsHere; which is already a huge buzz among the ice-cream connoisseurs, where Huber & Holly is offering discounts on each scoop matching the sweltering temperature outside. Yes, that's true. The hotter it gets, the cooler the offer gets. Hit their store in Koregaon Park all summer with friends and family, and enjoy your favorite flavor.
What Do We Love About Them?
Well, it's ice-cream, enough said :). On a more serious note, Huber & Holly is known for their breezy setting, serving ice-creams with over 30 toppings, which, and you will be surprised to hear this, can be mixed and matched to create over 11000 variations. WOW! If our love for ice-cream ever needed a champion, we think we have found one!
So, We Are Saying..
Summer will come and go, but Huber & Holly is ensuring that our love for ice-cream never fades. We suggest you brave the heat and head to any of their parlors across town between 11:30 am and 5 pm, give them the code SSH03 and claim a discount on every scoop matching the temperature outside. Ever thought you would be wishing for a hotter summer? Things ice-creams will make us do. For now, head to their parlor and thank us later.

Comments