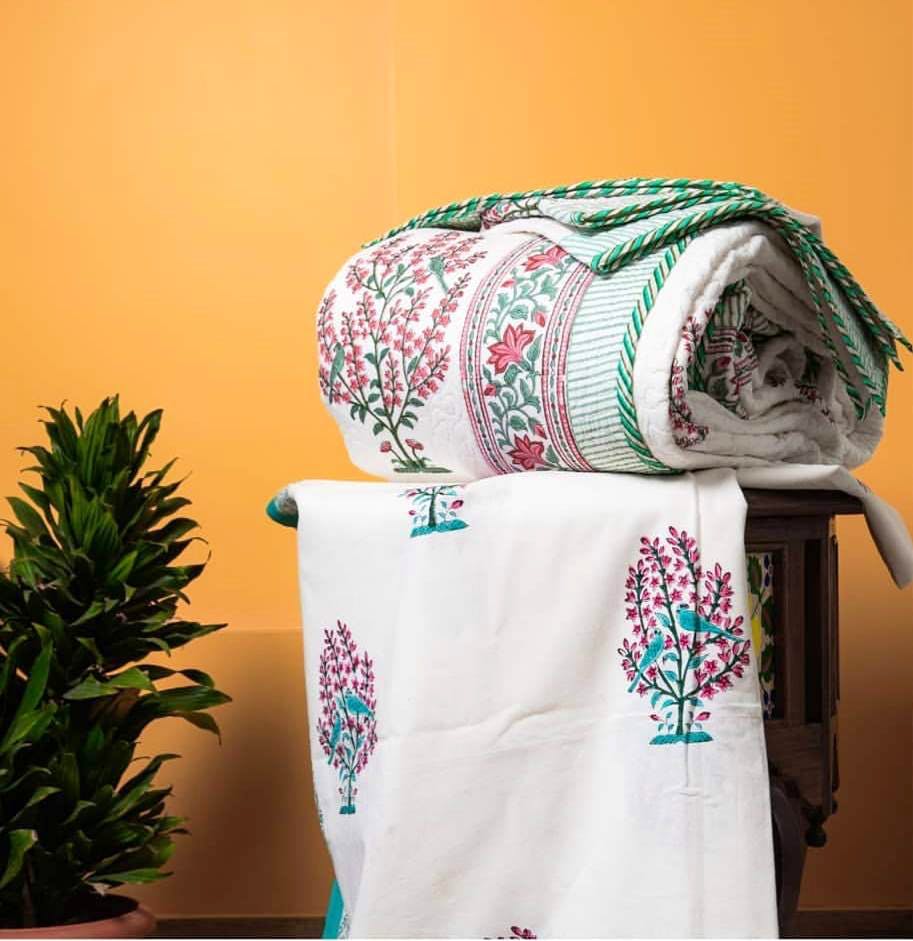 It's Nap Time! Enjoy Deep Slumber With Comfy Quilts From These Stores
Nights have begun getting chillier and we need something to tuck ourselves into while enjoying our naps or a good night's sleep. Nothing beats a good old comforter quilt as it adds more comfort and coziness. If you don't have a quilt yet, you need to shop for one from these quilt and bedding stores in Pune.
Persona Furnishing
Situated in Ambedkar Chowk, Aundh, Persona Furnishing has a beautiful collection of classic quilts for single as well as double beds. The price range starts at INR 1000 for single bed and they also have beautiful collection of duvet covers, duvets and bed linens.
Yadra Quilt
Exquisite doesn't even begin to define these handmade quilts from Yadra Quilts, an online homegrown store. They use natural fabrics for making single as well as double bed quilts as well as beautiful tote bags and table mats. From simple ones to ones with tassels, there are several designs with a boho touch too. To place your orders, WhatsApp them or simply dial them up.
The Quilting Tree
Add comfort to your sleeping regimen with bedding and linen from Quilting tree, an exclusive store on NIBM road in Mohammed Wadi that manufactures its own quilts. Housing around 200 varieties of quilts, Quilting Tree gets brownie points for its quality work and amazing colour selection. Right from soft cotton to smooth silks, they are available in different materials and patterns. Starting at INR 2,750, you can buy the perfect piece suiting your bed and bedroom decor. They have special comforter sets for babies and kids too.

The Jaipur Store
Make your slumber a bit cozier with these quilts starting at just INR 590 at The Jaipur Store in Kondhwa. Soft and comfortable, we are sure you will enjoy being tucked into these lovely printed covers. On top of that, this tiny store has a huge collection of traditional godhadis (crisp quilts with Jaipuri prints) as well starting from INR 2,700. Peacocks, elephants, flowers- find all kinds of Indian designs on them.

QuiltySoft
This brand is all about quilts and comforters for kids and toddlers. QuiltySoft is one of those rare brands that customise bubble quilts. The pieces are handcrafted and sewn to perfection. Kids tend to spill things easily and so these pieces are machine washable. Prices start at INR 840.
Stuti Mehta
From Jaipur-style quilts to block printed ones, drop a message to Stuti Mehta and check out her designs starting at INR 500. She also has quilts for children that are printed and are super cute. Our favourite are the Jaipuri ones that have those quintessential ethnic designs. Prices start at INR 800 and to place your order, you need to WhatsApp her.
The Weaving Co
The dohars and quilts from The Weaving Co. are something that caught our fancy. Not only are they super fluffy and soft but will provide you with the ultimate comfort. You will also find pillow covers to add to your bedding. You can also get customised designs suitable for your space. Prices start at INR 2,500.

Hari Om Furnishings
This home furnishing store has a beautiful collection of classic plain-coloured as well as printed quilts and blankets. Majority of the quilts are thick duvets and are perfect for providing warmth during winters. The price range starts at INR 2,700 and goes up to INR 4,000 depending upon the size.
Bharat Furnishings
This store in Baner is known for its home furnishing items such as linens and quilts. Housing a huge stock of warm godhadis, We love that the reversible quilts can simply be flipped over and used, since both the sides are stitched and printed. Prices start at a usual INR 1000.
Pinklay
Completely handspun and bearing ethnic prints, the quilts from Pinklay are an absolute gorgeous addition to your bedroom. Check out the gorgeous Jaipur quilts starting at INR 2,799. You will also find comforters in the same patterns, which you can use if it's not hot enough.
Ask Shruti a question