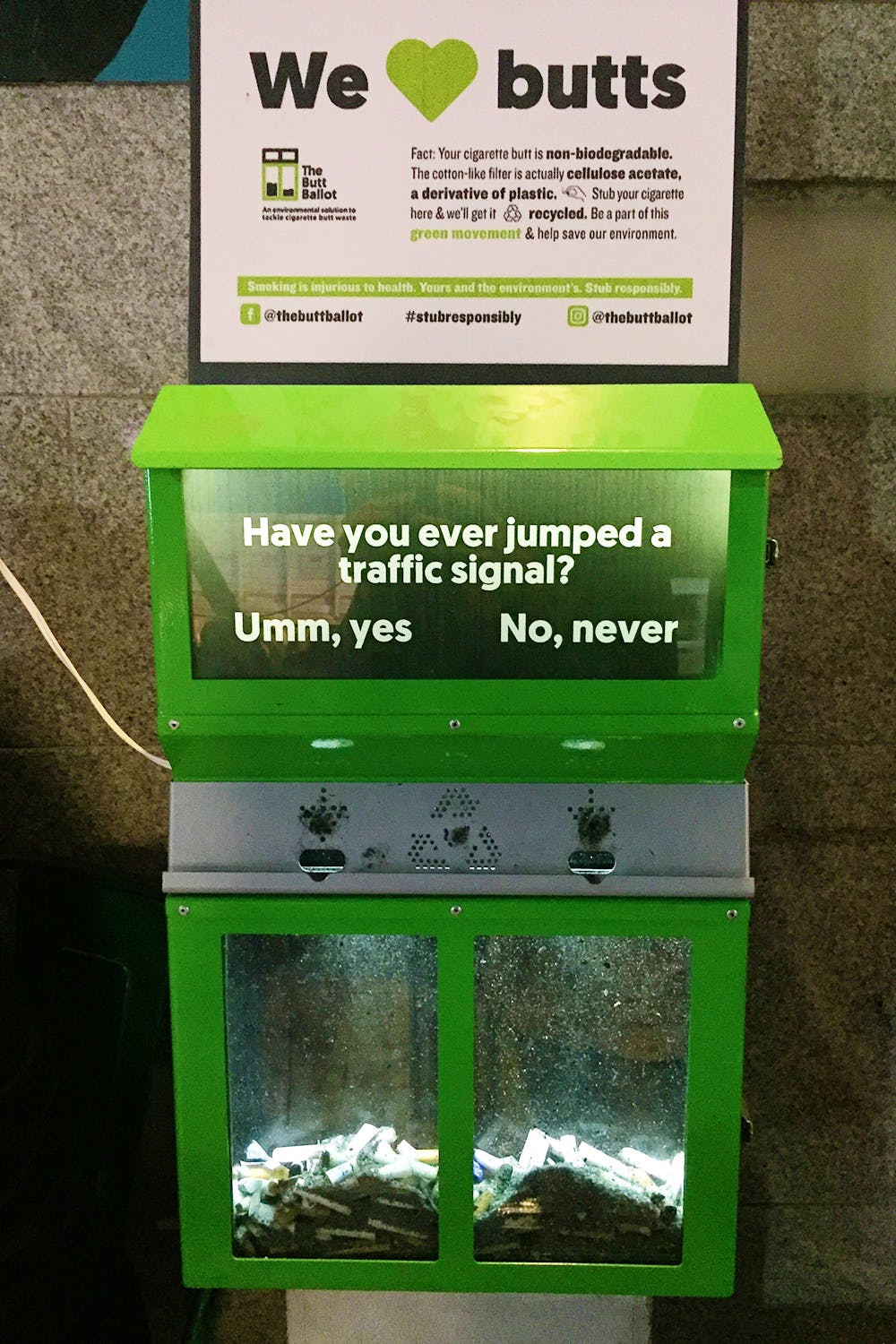 Help This Start-Up In Pune That Collects Cigarette Butts For Recycling
Shortcut
Did you know that one cigarette butt we casually throw around has the capability to pollute up to 7 litres of water? Also, are you aware of the hazardous effects that decomposed cigarette butts create? This start-up in Pune is set to change this by collecting them and sending them to get them recycled to avoid these harmful aftermaths.j
What Makes It Awesome?
Founded by Nalini Mangwani, Hansika Mangwani and Pratik Purswani- The Butt Ballot is a startup in Pune that collects cigarette butts for recycling. In order to save the environment, they have come up with a unique concept of collecting butts in specially designed butt ballots which are question ballots with a trunk for storage. Currently installed in several cafes such as Tien in Model Colony, and a few places in KP, these ballots are doing wonders.
With a capacity of collecting up to 1500 cigarette butts, these ballots also ask quirky questions for public engagement. If you want to reply, put the butt in that particular box. They provide 10 different question-cards per month.
There are two ballots installed in public spaces as well. One is behind Pavilion Mall near ICC Trade Towers and the other being near Chaitra Bandh society in Aundh. The next time you happen to see them, we suggest you do your tiny bit for the environment.
You can spread awareness and encourage your friends who own establishments to install a ballot at a monthly rent of INR 1750. the collected butts are sent to a flagship organisation in Delhi where the recycling process takes place.

Pro-Tip
We are waiting for their butt wallets, a one-of-a-kind accessory that every smoker should carry to store cigarette butts after smoking. Made of chemically-treated material, it can store up to ten cigarette butts and does not even smell.
Comments