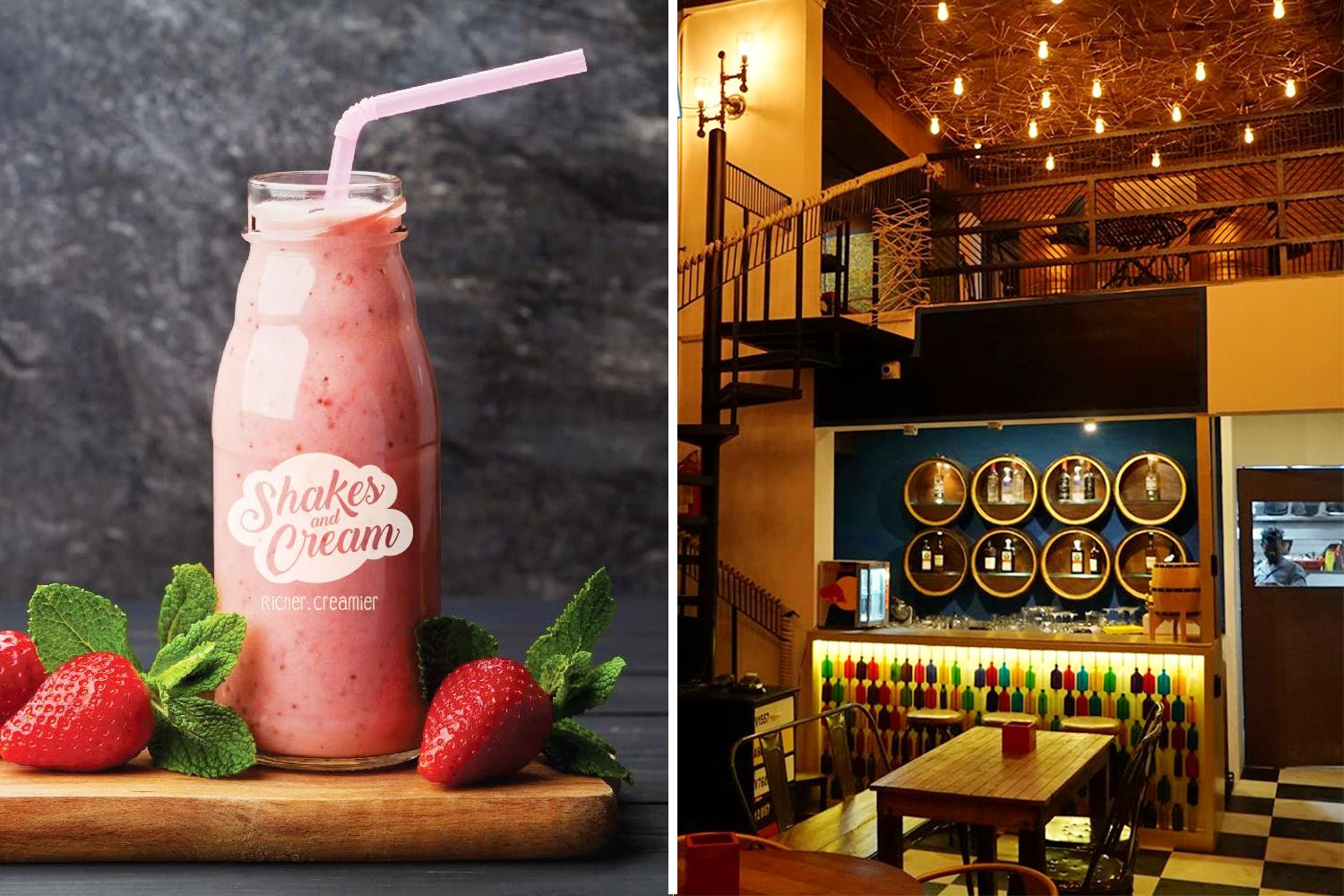 Lesser-Known Eateries In Kalyani Nagar You Should Grab A Bite At
Kalyani Nagar may not be as densely populated with eateries as Koregaon Park, but there are plenty of good restaurants and bars for every occasion. We decided to skip the familiar, and do some digging to find lesser-known eateries serving everything from luscious milkshakes, to quarter-bottle cocktails, Korean pastries, and home-style Goan food.
Shakes And Cream
Shakes and Cream is a milkshake parlour, with a small outdoor sit-out and (all-veg) food menu to match. Feast on the richest milkshakes, sandwiches, burgers, fries, nachos, and ice-cream. If you'd rather drink your dessert than eat it, try their 'timeless' or 'divine' milkshakes – we hear their signature Rajbhog, silky brownie, Alphonso mango, and cookies and cream are pretty good. Find them tucked away at Fortaleza (next to Mineority by Saby), and check them out on Facebook for all their latest offers.
Piatto
With interiors as sleek and chic as their desserts, Piatto is an underrated gem. We've tried and loved almost everything on their menu – including their fresh salad bowls, sandwiches (which even made our 'best chicken sandwiches in Pune' list here), and of course – their signature desserts. Try their raspberry chocolate pastry, macarons, barley salad, and roast chicken sandwich. Bonus points: they've also introduced house-made gelato onto their menu. Drop by their studio in lane 3 of Kalyani Nagar, around the corner from Pizza Hut, and read our full dessert recommendation here.
London Muffin
London Muffin is the Kalyani Nagar counterpart of the Koregaon Park bakery, started and run by a Pune-settled Korean family. Serving salad, pizza, pasta, and brunch specials (eggs, waffles, hot dogs, bagels, pancakes – the works), coffee and other beverages – you must pop in for a bite if you haven't already. Try their signature custard cream buns (a heavenly combination), croissants, green tea cake roll, bagels, and sausage rolls. If you want to try something uniquely Korean, try Bingsu – a dessert, available with a choice of red bean, or fresh fruit. Pricing is a little more expensive than usual, but it's worth every bite. Find them tucked away in a quiet by-lane (lane 13) near Jogger's Park, and keep in mind that they're closed on Sundays.
Hop-In
Hop-In aims to be the quintessential 'neighbourhood bar'. This quirky cafe-cum-bar serves everything from cocktails in quarter-bottles, to beer on tap, and multi-cuisine food spanning bar bites to main course. We hear their signature 'pauvas' (quarter-bottle cocktails) are a must-try if you like your alcohol – and they're available in different flavours, too. For eats, try the unusual 'dhokla-pakoda' (which we hear is quite the hit with vegetarians), Hop-In's 'egg surprise', their non-veg tandoor fare, and their juicy burgers. Hop-In's fare is value-for-money, and they even host their own gigs, match screenings, and run daily offers on food and drink – so follow them on Facebook for all their latest updates.
Comments