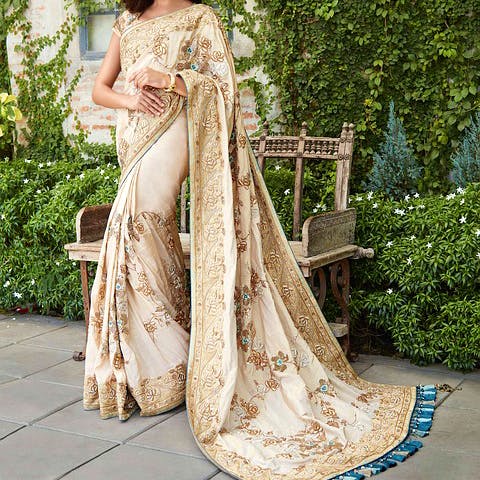 Traditional To Casual Designs: We Tell You Where To Shop For Sarees In Aundh
Shopaholics, you must be aware of the fact that Aundh is a shoppers' hub. While Team LBB has explored the area in and out, we also found stores where you can exclusively shop for sarees. Take a look at these saree hubs where you can find traditional as well as modern designs fitting all budgets.
Grishma Collections
If you are looking for sarees for regular use, Grishma Collections in Aundh Gaon is the place to visit, We also recommend you to check out their dressier collection as it is not only stylish but also affordable. Starting at just INR 400, score sarees for any formal as well as informal function.
Pallavi Garden Vareli Showroom
Kosa, chanderi, maheshwari - you name it and this store near Parihar Chowk will have it. Check out the gorgeous saree collection from Pallavi Garden Vareli Showroom and add glitz and royalty to your look. The price range starts at INR 1000 for something fancy, and we recommend you check out the silk pieces from this place.
Parampara Sarees
Parampara is one of the favourites when it comes to exclusive sarees. This store in Sanghvi Nagar, Aundh is the best place to shop for designer sarees. You can shop for your wedding trousseau or pick out a saree for your BFF's wedding. Their range starts at INR 400. We love their silk and Paithani collection as well, which sport beautiful peacock designs.
Kanchi Silk Sarees
Say silk sarees and this store off ITI road will come to your mind. Kanchi Silk Sarees is true to its name and houses an exclusive collection of silk sarees that are perfect for traditional functions and religious occasions. The store set-up is very homely and the range starts at INR 1000 only.
Sohala.in
Want to score a paithani, balatan silk or a kanjiwaram at special discounts? Save a trip to a saree shop and order from this online shop based out of Aundh. Sohala.in is currently offering a flat discount of 50 per cent to its patrons on kanjiwarams. They also have a great collection of bags made using traditional saree fabric starting at INR 900.
Banthia's Siddharth Collection
Situated near Hanuman Temple in Aundh Gaon, Banthia's Siddharth Collection is an exclusive saree showroom where you will find designer and traditional sarees in abundance. Starting at INR 800, you can score wedding trousseau sarees that are rich and have a traditional appeal to them.
Panchali
One of the most popular stores in Aundh, Panchali Sarees in Parihar Chowk is a place to shop for sarees without upsetting your budget. From simple to designer pieces, you will find all kinds of sarees fitting all budgets. If you are lucky, you will stumble upon the store during their mega clearance sale, where you can find beautiful sarees for just INR 300.
Comments