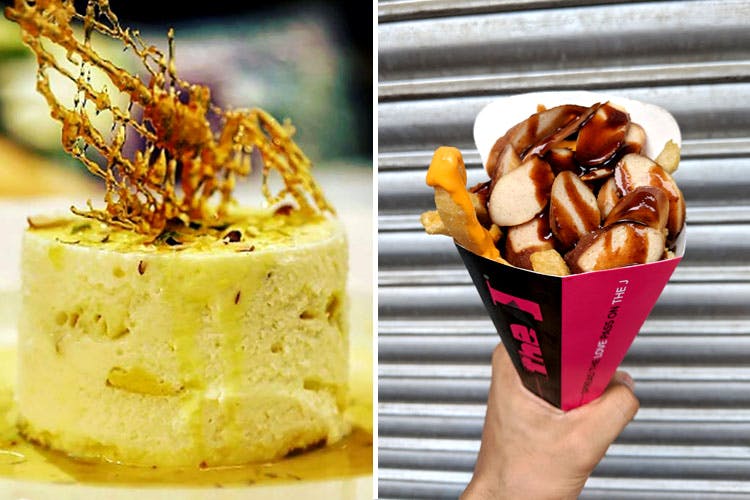 Say Cheese: Our Guide To The Cheesiest Dishes In Pune
If you're the sort who can't resist cheese, and are perennially on the lookout for overloaded cheese food items, then you've landed at the right place. Much like you, cheese is a priority for us too, and so we've saved us all some time, and rounded up the five must-have cheesy dishes in Pune.
BBQ Cheese Chicken Fries
Located in Viman Nagar, The J serves all kinds of exciting fries mixed with sausages, cheese and fascinating sauces. The BBQ Cheese Fries are crispy French fries mixed with BBQ sauce and cheese. Smothered with a thick layer of mozzarella cheese, these fries are almost like a meal.
 Price: INR 160
Four Cheese Fondue
This dish by Tales & Spirits, should definitely be on every cheese-lover's list in town. The cheese fondue is a combination of Gruyere, Emmenthal, Grana Padano and Aged Cheddar Cheese finessed with a dash of nutmeg.
Price: INR 440
Cheese Bhel
The cheese bhel at Classic Pani Puri is for those who love a hint of spice amidst the creaminess of fresh cheese. Made of puffed rice, diced veggies, sev, tangy tamarind sauce and cheese, this one gives a whole new definition to street food.
Price: INR 50
Rasmalai Cheesecake
Cafe Mocha ensures that you have an experience like no other. With the perfect ambience and lighting, they also have the perfect dessert- a Rasmalai Cheesecake. This unique dish is made the traditional way- they soak their malai in the goodness of the syrup and then make it into a cheesecake. Mouth watering, isn't it?
Price: INR 225
Comments