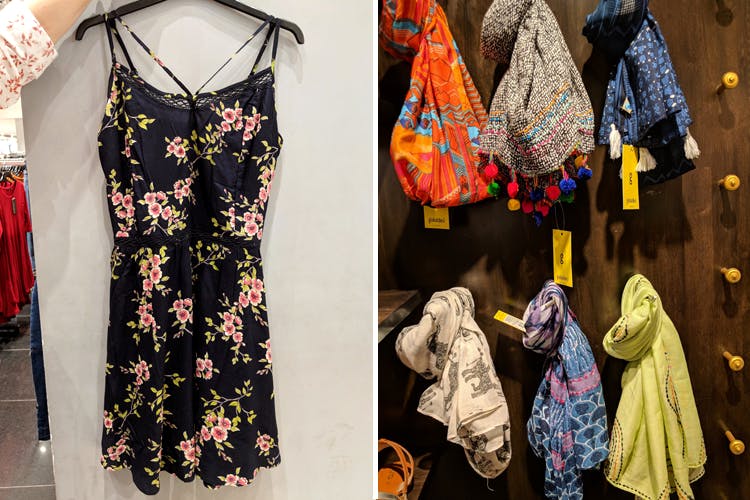 We Went Shopping For INR 4,000 At SGS Mall & Here Is What We Bought
Summer's here! Time to store away all your winter garb, and re-vamp your wardrobe for some fun in the sun! We went shopping at SGS Mall in Camp, and here's what we found and bought for under INR 4000.
Westside
Westside has really stepped up their game in the last couple of years, so we went here first to see what we could score from their women's' clothing department. We found a lot of cutwork embroidery and floral prints, denim jackets, and dresses in different lengths and styles. We really liked an embroidered short-sleeved top in red for INR 1200 but ended up choosing a short and strappy black dress with pretty pink flowers, for INR 1200.
Pantaloons
Pantaloons has always had great value-for-money accessories like bags and shoes, so we decided to take a peek and see if we could find anything to add to our summer outfit. We found really cute sling bags in neutral tones for INR 999, Oxford-style brogues in white, pink, and brown for INR 699, and our favourite – patterned sneakers in floral and Aztec prints. We picked up a pair of the sneakers in a light grey print for INR 799, and couldn't be happier.
The Body Shop
Self-care is essential, and we like The Body Shop's range of products – from their skin-care to their make-up. We found a great alternative to kajal eye-pencils – their 'Skinny Felt Liner' for INR 795, which is like a liquid liner in the form of a felt-tipped marker pen. It's great for precision, and we use it ourselves. As much as we were tempted to buy that, we sniffed and sampled our way through the store – and were torn between their scented hand creams, priced from INR 345 onwards, and their new lip and cheek velvet stick. We chose to splurge on the latter because its 2-in-1 make-up appeal was more than anything else we tried. The lip and cheek velvet stick has a silky-smooth feel, and we sampled four shades before deciding on the eye-catching 'poppy coral' for INR 895.
Global Desi
With our bags heavier and wallets lighter, we popped in to Global Desi on the ground floor to add one last touch of glam to our summer 'look'. We found soft, patterned scarves priced from INR 599 onwards, and a rack of accessories to choose from. After much indecision, we decided on a pair of gold earrings with tiny red accents for INR 399, and a beautiful scarf for INR 599.
Anything Else?
All in all, we spent a total of INR 3,892 – which left us with INR 108 to spare. There's plenty to choose from at SGS Mall, and a lot of shops offer seasonal discounts on previous collections rather frequently. It may be smaller than most high-end malls, but we were happy with the selection of shops – and especially with what we picked up on our budget. Head on over to SGS Mall, and let us know your best buys and bargain finds!
Comments