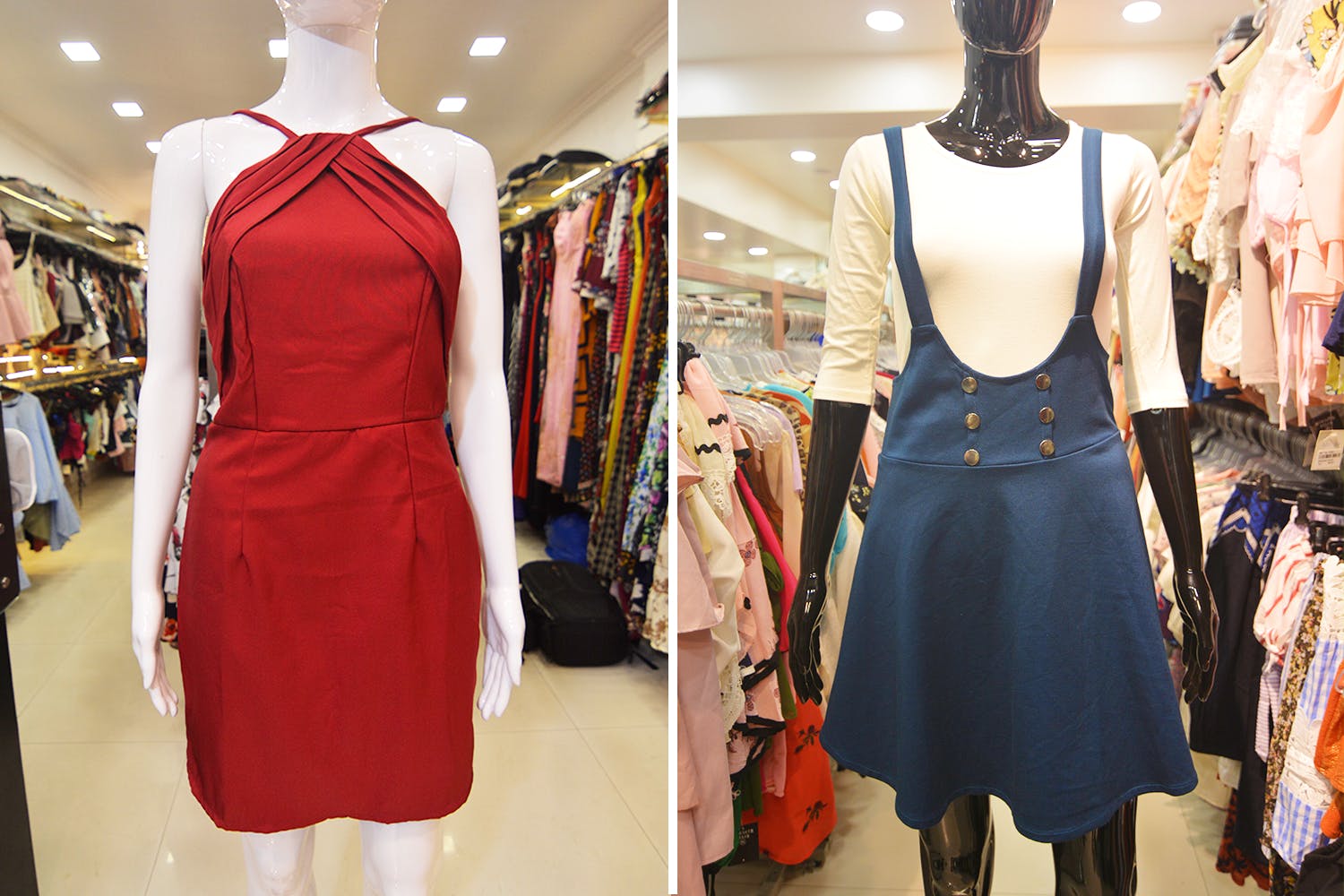 Dungaree Skirts, Jumpsuits & More: We Shopped At KP For As Low As INR 300
Ten-Second Takeaway
North Main Road and Lane 6 in Koregaon Park are full of boutiques, stocking the latest in fashion. We went shopping for a few outfits at different boutiques – with no more than an INR 5000 budget (per boutique) and here's what we found.
Cupid
Cupid is stocked to the brim with clothes in a multitude of sizes – and at affordable prices, too. We picked a really cute mustard-yellow strappy dress with white flowers – worn over a t-shirt – for INR 1250; a pretty blue off-shoulder dress with a crochet-style hem and silver detailing for INR 850; and a trendy monochrome patterned jumpsuit for INR 850 with a waist-cinching gold and black belt for INR 650. They're light, pretty, and good for events like a casual lunch with your girls, or a romantic date night. They also had plenty of belts and jewellery to accessorize your look – priced between INR 350 to INR 850.
Style Republic
Style Republic's fancy display of embellished jumpsuits and gowns caught our eye. We came for the bling, and stayed for the clothes! Among our finds were a teal blue dungaree-skirt for INR 1450, paired with a three-quarter sleeve white t-shirt for INR 750; a strapless white crop top with ruching and black embroidery for INR 850, paired with orange shorts for INR 750; and a strappy, white cotton dress with a floral pattern for INR 1250. These outfits felt vacay-ready to us, and we think they'd be great options for a relaxed weekend away from the city.
Busy Bee
Busy Bee in Lane 6 has re-branded themselves recently to reflect more of 'street-wear' fashion. A sheer off-shoulder patterned top for INR 400 caught our eye, as did an orange strappy-flowy top for INR 400 – both available in multiple colours, paired with a pair of smart navy blue palazzo pants for INR 300. One of our favourite finds, was a white cotton skirt with a cute scenic-pattern for INR 600, which we teamed up with a navy blue fitted top for INR 450. All of these options are super comfy and wearable on a daily basis; whether it's to office or college.
Envy
A pretty Aztec-print maxi dress (with pockets, yay!) at Envy caught our eye – priced at INR 2399. The selection of clothes there was a bit more limited than some of the other boutiques, but we also found a nice beige printed dress with an asymmetrical hem for INR 1350, and a multi-strand blue beaded choker for INR 850 to accessorize it with. We thought these dresses would be super for a smart work event, or even a lunch party.
Comments