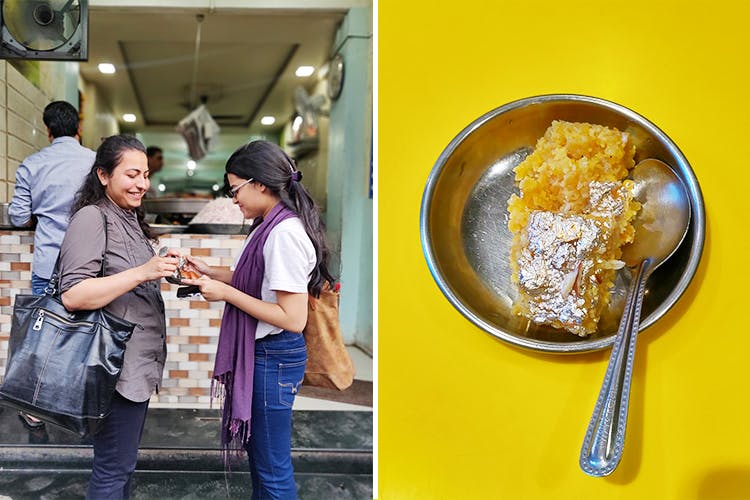 Never Tried Sindhi Food? Go On This Food Walk We Chalked Out In Pimpri
Shortcut
There are many Sindhis in Pune, but the problem with their cuisine is, it's rare to find and easy to miss out on. We'll tell you all about Sindhi food and where you can find it. As Pimpri is one of the hubs of the community, we meandered there and are still in a food coma.
Chole Chaap At Vishal Chaat Bhandar
This little stall is an easy miss and serves several other variations and gulab jamun. But if you're on a Sindhi food walk, stick to the classic chole chaap. Chole chaap, chole pattice or ragda pattice - call it what you will, but this is a staple snack of the community. The Sindhi pattice, is commonly heart-shaped, made of aloo and stuffed with spiced channa daal. Topped with lots of chole, tangy chutneys and sliced onions, this heart pattice has our heart. For INR 35, this plate is what we'd go back to Pimpri for.

Butter Papdi Chaat At Kalyani A1 Pani Puri
The little pani puri stall serves up a few other chaat items that you're sure to love. But head here for the butter papdi chaat, which is rare to find anywhere else. It's not a typical Sindhi snack. But, the butter papdi which Sindhis love and call maakhaniya is broken into half, plated and topped with aloo and boondi, a host of different spicy, sweet and tangy chutneys and then pani puri water. The masala water soaks the butter papdi making it soft enough to eat and yet leaving some crunch. You can get a plate for INR 30.
Pakoda And Bhajji At R.P. Nashta House
Located in a tiny lane, this small snack shop is the neighbourhood's favourite spot to drop in for a snack in the evening. Because Sindhis love their fried food, you can get a bhaji pav, which is like a vada pav, but with a twist. An aloo patty spiced with garam masala, coriander and cumin is batter fried and served stuffed inside a pav with chutney for INR 15. You can also get a plate of sanna pakoda, which is a Sindhi-style double-fried onion pakoda that's super crunchy and very different from the local onion bhajiya. And, bite into mirchi pakoda where a Bhavnagari chilli is stuffed with a sprinkling of amchur (dry mango) powder. It's tangy and spicy all at once. We got a 100 gms mixed pakoda plate for INR 30.

Gulab Jamun At Mahadev Pattiswala
This shop is famous for its dal pakwaan, koki (paratha-like breakfast item), and chole pattice. But we couldn't resist the hot gulab jamuns on display. Sindhis love their mithai, so these jumbo-sized gulab jamuns for INR 20 for soft, warm and all things good.
Singharanji Mithai At Jhulelal Ice-Cream
You can't be in a Sindhi area and not dig into some singharanji mithai, or better known as sev barfi. Made with sev and mawa, this sweet is every Sindhi's favourite one to eat for any festive occasion or celebration. Sample a small portion for INR 45. But while you're here also order a kulfi falooda for INR 80. Sindhis eat their falooda a little differently. It's a large piece of kulfi topped with vermicelli, rose syrup and sabja. There's no glass of milk, so this relatively lighter to eat too.

Comments