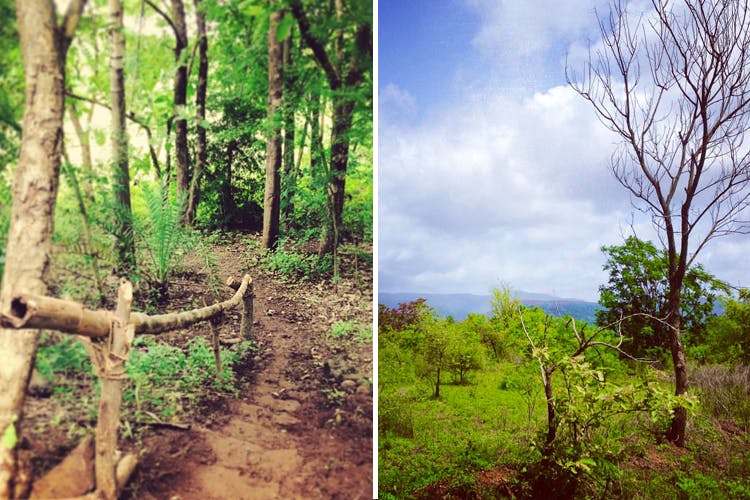 This Secret Jungle Near Pune Is The Go-To Destination For All Nature Lovers
What Is It?
Painstakingly created by conservationist Pramod Nargolkar and now looked after by his wife Nayana, Sipna is a private sanctuary, spread across 21-acres of land at Gorhe Khurd on Panshet Road.
How Do I Get There?
Sipna is approximately 22 kms from Pune and takes about one-and-a-half hours to reach if you drive via Sinhagad Road, crossing Donje Phata, towards Panshet.
What Did I Like?
Untapped and unspoilt, Sipna is for those who wish to explore beyond Lonavala and Lavasa during their long weekends. Blanketed in various tones of green, the santuary houses over 20,000 trees, 200 species of insects, over 100 fauna, butterflies and snakes of various species and exotic flora.
We went their for half a day and but only wished to stay longer. There's nothing much to do here! However, we loved the utmost tranquility of the place. So quiet and calm, we walked down the lush green tracts, watched hundreds of birds chirp away, sat by a quaint pond-like water body and learnt so much about environment conservation and composting from our guide, who later informed us about couple of rules at Sipna. You cannot take anything from here; be it flowers, fruits, herbs or even leaves. And, one must ever litter the place!
Anything Else?
In case, you wish to stay for a night at Gorhe Khurd and revisit Sipna, we recommend you check out Sorina Hillside Resort, located about one kilometre from the sanctuary. We hear the resort has a premium hillside room, well-equipped with air conditioner, LCD television and a bath tub. Priced between INR 3,800 and INR 4,500 for a night, your stay will come with complimentary meals.
Comments