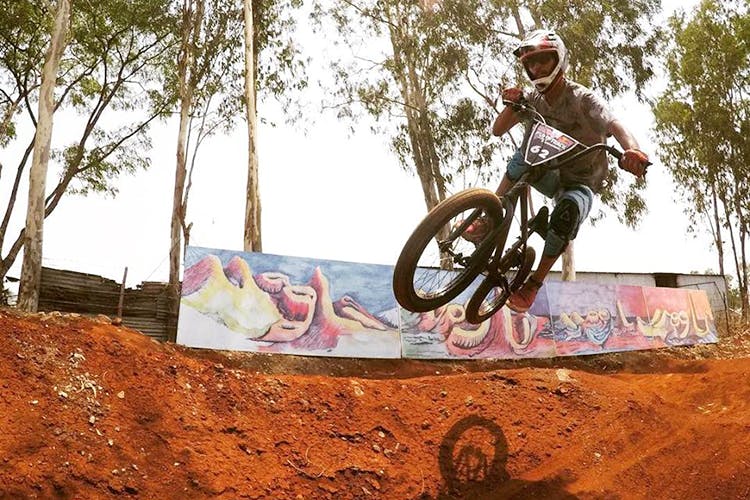 Western India's First Dirt Pump Track Is In Pune & We've Got The Deets
Shortcut
Spirit of Mogli is an outdoor, dirt 'pump track' located in Gahunje, on the outskirts of Pune. A 'pump track' is basically a dirt track, meant for experiencing off-road biking in a safe and controlled environment. Ideal for BMX (bicycle motorcross) bikes, it's a way to introduce people to an undulating dirt road that's just like a mountain biking trail.
Tell Me More
Spirit of Mogli's founder, Varun Dutt has a background in BMX mountain biking and is hoping to introduce more people to it. He designed and built the track himself and is the only one in Western India right now.
The track is open to people of all ages (age 6+ is preferred), and there are 5 BMX bikes you can rent here itself if you don't have your own. Rentals start at INR 350 per hour, which include access to the pump track with Spirit of Mogli's BMX bike and all safety gear. If you have your own mountain bike or cycle, you can try them out on the track too – for a fee of INR 250/hr.
Spirit of Mogli will be closing their pump track on June 4, for the duration of the monsoon – and will re-open once the heavy rains have passed (around September/October). During this time, we hear they're going to be hosting mountain biking rides and trails at Ghorawdeshwar – right behind the NCA cricket stadium, near the Mumbai-Pune Expressway.
Spirit of Mogli will sort out the bikes and safety gear for you (if you don't have your own). What's more? Customised rides will also be available, depending on the experience level and size of the group. The mountain trails will be held in the early morning (sunrise) and late afternoon/evening batches (sunset) – and we think it'll be one kick-ass experience to try out!
Comments