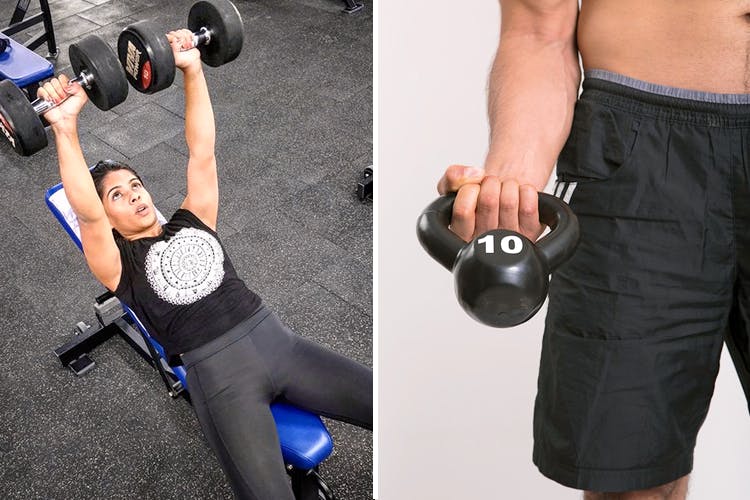 A Broke Person's Guide To Scoring Affordable Fitness Gear From These Sports Stores
Ten-Second Takeaway
Who says you have to get an expensive gym membership to stay fit? Why not take the first step towards fitness at home? At LBB, we tell you exactly how to score the most affordable gear to kick-start your home workout routines.
Juna Bazaar
While Juna Bazaar is a broke person's paradise for antiques, second-hand furniture and first copies of branded products, this place is quite the treasure trove when it comes to scoring weights without breaking the bank. We bought 30 kilos worth of iron plates with rods for only INR 1,200. The key to get a great deal out here is, BARGAIN!
Champion Sports
One of the legendary sports outlets on FC Road, Champion Sports sells everything, including gym wear, equipment, whey protein and supplements. We managed to score a pair of skin-fit gym pants for women for INR 600, skipping rope for INR 100, kettlebell for INR 250 and a tennis racket for INR 550.
Kuckreja & Co
119-year-old Kuckreja & Company at MG Road is the most trusted and undoubtedly the oldest name in providers of sporting goods, attire and equipment at fairly reasonable prices.
If you're a cricketer looking for durable and sustainable products, this is the place to be! From poplar willow cricket bats to high-end Adidas, Puma and Kookaburra bats, Kuckreja boasts of its varied collection, starting from INR 899 to as high as INR 12,000. Do check out their range of helmets, gloves, leg pads, jockstrap and sun hats, starting at INR 499.
Another major hit at Kuckreja's is their collection of swimwear. Shop for an entire swimming kit with goggles, swim caps, nose clips, bodysuits and nylon trunks by different brands including Speedo, Viva and more, starting at INR 2,700.
Ashish Plaza
This lesser-known store in the basement of Hotel Ashish Plaza, that offers 30% -80% discount on the export surplus of branded clothing and accessories, all through the year. We found Adidas and Reebok running and tennis shoes, starting at INR 850. What's more? Score comfy Puma tees and shorts for as low as INR 200.
Decathlon
If you're into cycling, Decathlon is the place to be. With surprisingly great deals on products, we found cycling sunglasses for INR 299 with two-year warranty. That's not it! The store has a whole range of shoes, from trekking to running, golf and even horse riding. We managed to get a great pair of hiking shoes for INR 999. If you're looking for sweatshirts for your daily workout, Decathlon has a collection of very comfy and durable fitness attire, starting for INR 599.
Comments