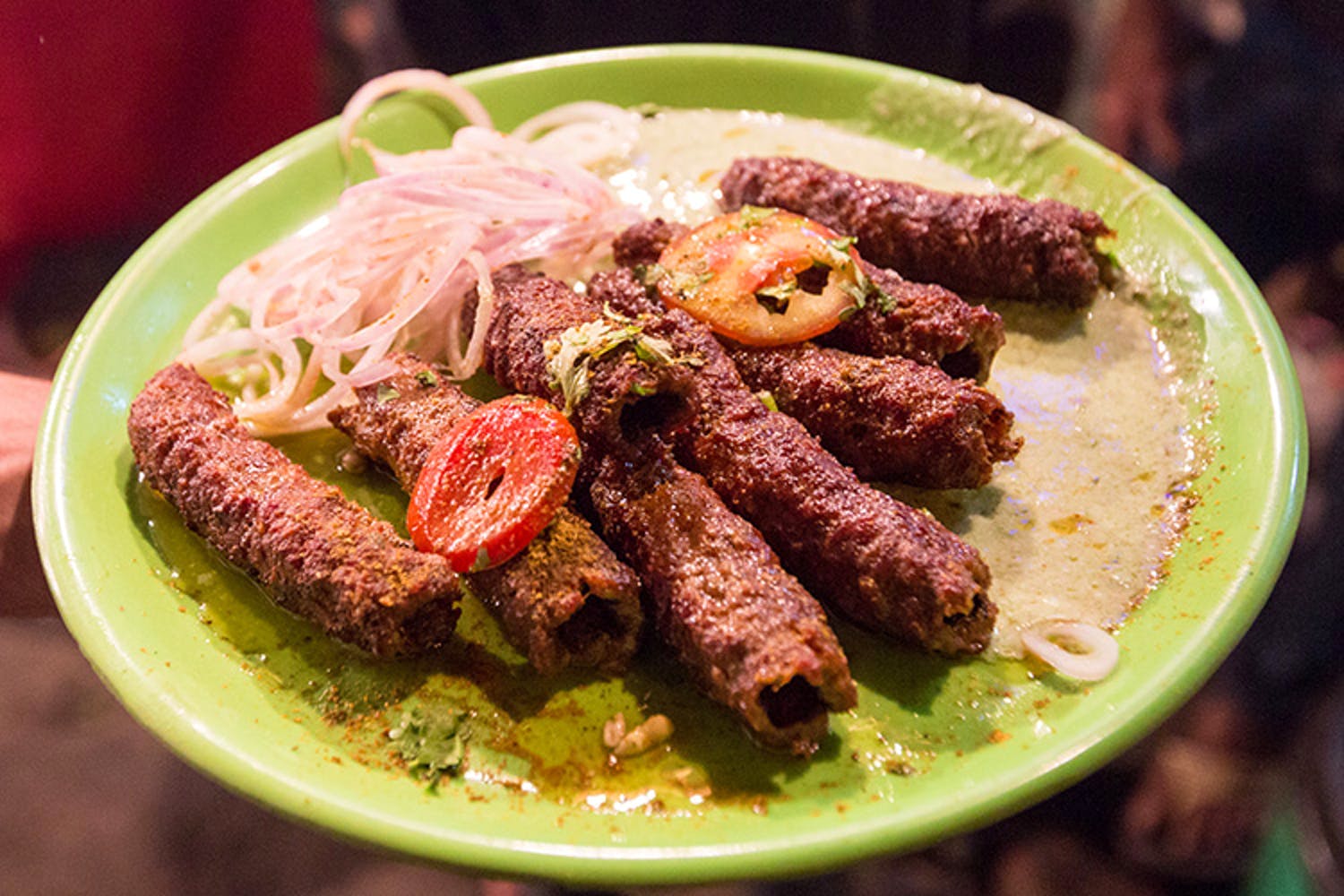 From Kebabs To Momos: Here's Where You Should Eat Street Food In Pune
We've covered tons of street-food lanes, stalls and kiosks in Pune. However, we got many responses for a consolidated list of the ultimate street food guide in the city. So, here it is. From khao gallis to legendary outlets, these eateries are a must-visit for affordable and yummy quick bites.
Chaat
Let's start with the most popular street snack of all time – Chaat. Bhel puri, SPDP and pani puri are the answer to all your sweet-and-sour cravings. If you're looking for the 'BEST BHEL' in town, we recommend you check out Kalyan Bhel, one of the oldest and most legendary chaat outlets in Pune. Their Bombay bhel, shev puri and dahi ragada pattice are a must-try. Besides Kalyan Bhel, you can also check out this list for more iconic chaat places in town.
Coming to pani puri, Jaishankar Pani Puriwala at Babajan Chowk is an all-time Puneri favourite even after six long decades. We hear some of their customers include celebs like Johnny Lever, Rati Agnihotri and Ali Asgar. For more details on the place, read our recommendation here.
Vada Pav
If you ever think that the vada pav culture is a bit overrated in Maharashtra, you clearly haven't visited the legendary Garden Vada Pav stall in Camp. Always bustling with people, this food joint sells close to about 2,000 vada pavs a day and has been an unbeatable local fave since 1972. Priced at INR 15, the vadas are made of delectable spiced potato fitters; sandwiched between a soft bread, coated generously with tangy green chutney and served with fried green chillies. It is said Garden Vada Pav's claim to fame, was in fact, this famous green chutney.
Street Dosa
Located near Axis Bank ATM at Dutta Mandir Chowk, Ravi Famous Dosa Centre is quite the hit amongst students living in and around Viman Nagar. The reason is pretty simple: scrumptious, mouthwatering dosas. Priced between INR 20 and INR 120, Ravi's dosas will spoil you for choice. From Maggi dosa to American chop suey, paneer bhurji, noodles and Kerala cheese dosa, he gives a whole new definition to authentic South Indian cuisine. Read more here.
Succulent Kebabs
Meat lovers, we understand that the 'ultimate street food guide' is never complete without melt-in-mouth seekh kebabs. And, according to us there are two establishments that do it the best – Garden Seekh Kebabs, the small cart near JJ Garden that serves tender chicken, mutton and beef kebabs for INR 40 and this lesser-known cart, opposite Radio Hotel, that makes mouthwatering kebabs and beef samosas, starting at INR 15. For more places, you can refer our recommendation here.
Mutton/Chicken Samosas
Go to East Street and ask anyone where to get a plate of piping hot kheema samosas, and we bet a lifetime, they will guide you towards Akhtar's Samosa Stall – a little kiosk, run by Mohammed Akhtar, perpetually crowded with patrons between 4.00pm and 8.00pm.
The best part about Akhtar bhai's samosas is undoubtedly the thin patti, extremely light on the palate, fresh and crispy. Available in mutton, chicken and buff meat, these medium-sized samosas, served on paper plates, cost not more than INR 20 a piece.
Chinese Bhajiya
We bet you have never heard of 'Chinese bhajiya'. And, we were quite surprised to find one too. Located opposite Shoppers' Orbit in Vishrantwadi, near Dominos, this guy sells Chinese bhajiya for INR 20 a plate. The dish comes in two variations – deep fried Manchurian balls served with or without the red chilli sauce. For more details click here.
Dabeli
If you're tired of same old North Indian chaats, go for some authentic Kutchi dabeli. Located on JM Road, we think Yashwant Dabeli is perhaps the best in town. Starting at INR 25 for a plate, must-try their cheese and special shev dabelis. For more such places, refer to our recommendation here.
Momos
Located in Lane No.6, Momo's Corner by Vikrant and Anil is known for its steamed, fried, and tandoor-style momos, starting at INR 70. Each plate of six momos is served with their own super-spicy chilli sauce – except for the tandoor momos, which are served with a side of green chutney. What's new? While they still have the old cart, they've opened up a brick-and-mortar eatery of their own, just a few meters away from their original spot. Read more about the place here.
Gola
Manasi Malai Gola at Shukrawar Peth sells our favourite gola with a twist. What they do differently is add generous amount of toppings (dry fruits, mawa, nuts and malai) on ice cone. That's not it. Their Jamnagar special gola has ice cream inside it. For more deets, click here.
The Best Khao Gallis In Pune
If you are looking for a full-fledged street food, these khao gallis are where you probably should be. First up, is the one which is located opposite the Symbiosis Infotech Campus in Hinjewadi Phase 1. From kulfi to litti chokha and shawarma, this street is full of diverse option. Click here to know more.
Next, is the khao galli at Lane No.6 in Koregaon Park that has interesting options including chicken golgappas, tandoori momos, samosa chaat, mocktails, SPDP and more.
Want pocket-friendly grubs like pizza, tandoori, Kolhapuri thali, loni dosa and thick shakes? Head to this khao galli, opposite Yerwada Central Jail for soul-satisfying street food.
You can also eat around Narayan Peth and cool off with fresh sherbats and juices or eat some very local food. Know more about it here.
And, if you're ever in Pimpri, you should sample Sindhi food and follow a food walk that we chalked out. Read more about it here.
Comments