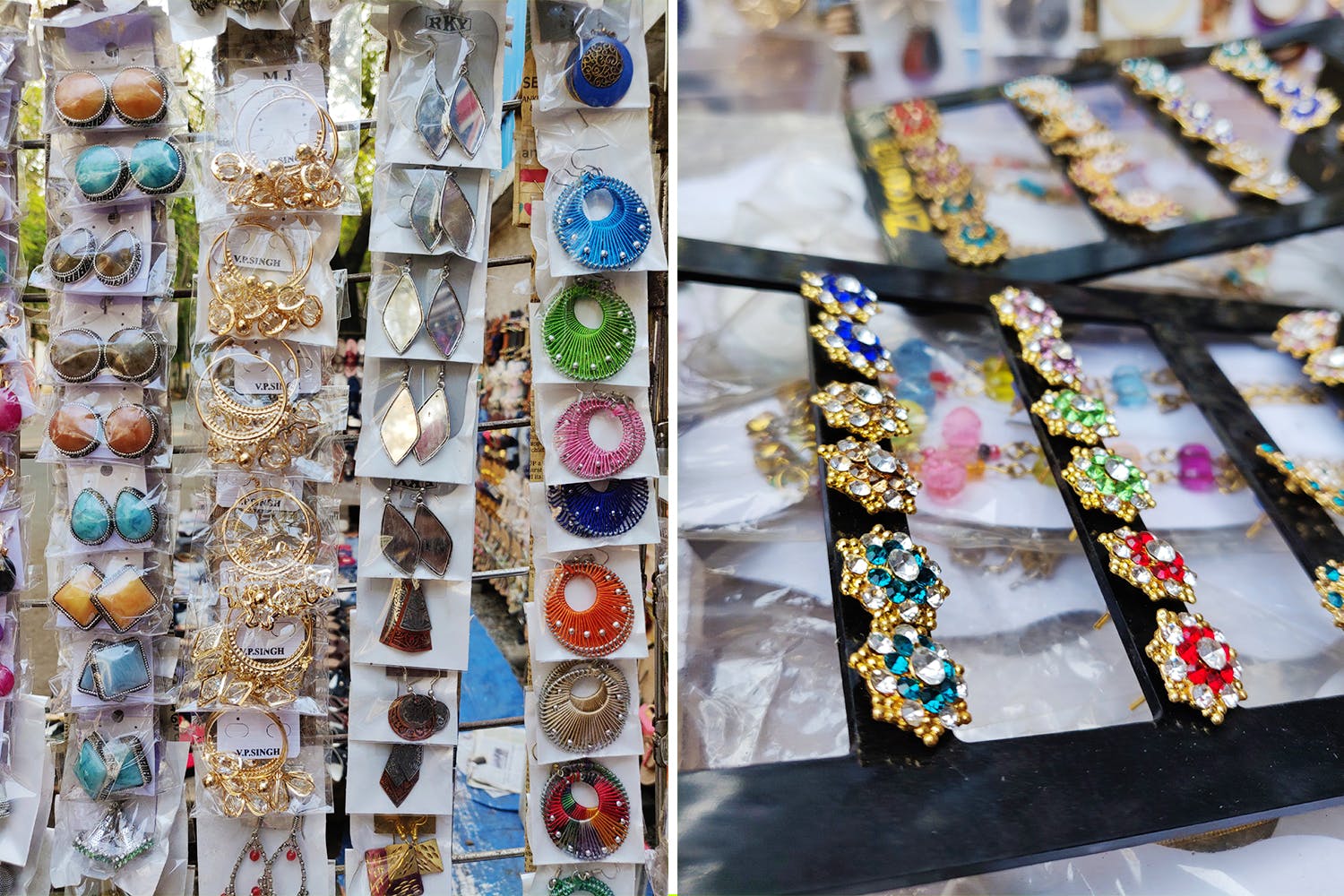 Earrings, Bracelets & Brooches: Shop For Jewellery On A Budget
Shortcut
Who doesn't like beautiful jewellery? And it's even better if found at throwaway prices. We've rounded up the best street shopping experiences in Pune where you can score rings, bracelets, brooches, earrings, statement necklaces and more.
Tulsi Baug & Laxmi Road
If you've got time on your hands, browse through the shops at Tulsibaug market and Laxmi Road. Our team found nose rings and smaller earrings for as little as INR 30 – INR 100, which we think are a good start towards accentuating your overall look before moving on to bigger pieces. You can also find beautiful gold bangles for INR 50 (set of 6) that you can wear with any outfit. Not just that, the street-vendors selling jhumkas and neck-pieces have some amazing chunky pieces.

Hong Kong Lane
Located in Deccan Gymkhana, close to the Garware Bridge, this market offers a broad assortment of accessories and jewellery. Hong Kong Lake is a one-stop shopping destination for men and women. If you're looking for quirky, budget jewellery – it's your best bet. Our team paid a visit here earlier, and picked up long/chunky earrings, starting from INR 100 onwards. If you look carefully and shop patiently, you're bound to strike gold.

M.G. Road
There are small-time street vendors in front of SGS mall and Clover Center who have a collection of statement necklaces and earrings. They use all-natural semi-precious stones, and stock every kind of jewellery accessory, from bangles and bracelets to earrings, necklaces, as well as necklace sets. Tasteful and elegant, their jewellery is sure to make a great addition to your festive wardrobe.
F.C. Road
FC road is known for everything funky and reasonable. You will find flea-type stores and street vendors selling cute jewellery pieces starting at INR 30 only. We found these amazing rings (normal as well as a cocktail) that were in abundance. Apart from that, we found armlets, brooches and statement temple jhumkas.
Koregaon Park
Starting at INR 50, lane number 2 of KP has some amazing street jewellery. Our personal favourite was the multi-coloured round hand-spun earrings. We also found beautiful cocktail rings with giant stones as well as the pretty anklets. Earrings are something they have in abundance. Doll-up with these pieces and make a street style statement.
Comments