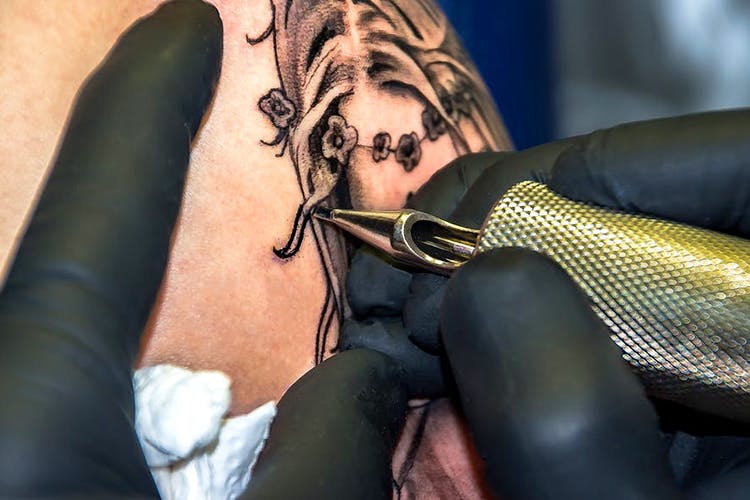 Get Inked: People With The Quirkiest Of Tattoos Tell Us Where To Go
Ten-Second Takeaway
Planning to get a tattoo and just can decide on the perfect design? Or just simply unsure which is the right place to get inked? Here are people who chose to bend the rules and get the most quirky yet deep meaning tattoos sharing their experience.
Jahnavi
I have two tattoos both inked from The Body Map Tattoo Studio at Koregaon Park. I chose to design my own tattoos, both signifying things and characteristics that define my personality. For instance my second tattoo has mountains, forests all merged into on.  The length of my first tattoo is 14 square inch and the second one  is 15 square inch. I had an amazing experience there. I took my designs and they modified them but didn't fiddle with the basic idea that I wanted to project. The first one cost me INR 3500 and the second one was 6500 due to an offer running at that time. It's actual cost could be anywhere around INR 12,000.
Naju and Abhirami
My best friend and I both got tattoos from Guns Artwork at North Main Road, Koregaon Park. My tattoo is 2.5 inch long with signatures of both my parents connected with an ECG line symbolizing my existence and my love for them. My best friend got faith written for her with a tiny tiara on top to remind her to keep faith in herself even in the worst of circumstances. Her's is 1.5 inch long. While mine cost me INR 2500, hers was INR 1500. While I had thought well about my tattoo, my friend decided to get an impromptu one. She was nervous but the friendly and affirming staff eased her in.
Eeshita
I have a 1.5 inch long tattoo with keys on a CD player telling me that I have control over my own life. I had got it made from RK Studio, opposite Hotel Roopali on F.C. Road. I had thought about this tattoo for long and they inked me just as I wanted as if my thougts were tranferred on my arm. The place was so hygienic and the guy was so smooth in his work that I loved the experience. They even gave me a discount. It costed me INR 1500.
Pritha
I have a 2 inch long tattoo of infinity with maa and baa written in bengali script merged with it. I got it made from Sabby's Tattoo & Piercing Studio at Koregaon Park. It signifies my infinite love for them and how they are to stay with me forever. I had a basic idea about my tattoo which they modiifed to look better. The staff was so friendly and the process was extremely clean. It costed me INR 1500.
Tanvi
I have a 1 square inch tattoo of a  self timer which signifies how I started out with photography by getting into self portraits, etcon the side of my neck behind my ear. The tattoos were done Envivo Lounge Salon at Viman Nagar. It was a painful experience because of how sensitive the area is. It was super hygienic and the tattoo artist took out a new needle in front of me. I'd been inked by Deepika three times before this already so I knew and I trusted her.The cost of the tattoo was INR 1000.
Comments