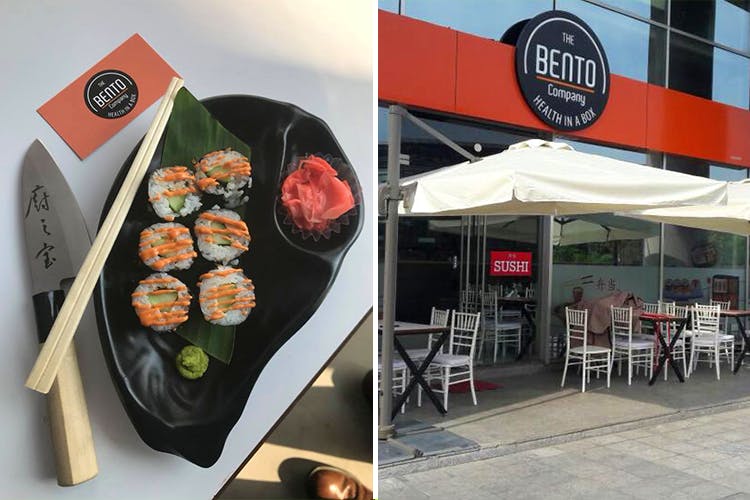 New Place Alert: Your Sushi Now Comes In Cute Bento Boxes
Shortcut
If sushi and teriyaki sauce are your kind of happy things, head to The Bento Company, a new restaurant at World Trade Centre in Kharadi, that serves authentic Japanese treats in a bento (or a lunchbox).
Tell Me More
Started a couple of months ago, The Bento Company is a quaint eatery at Kharadi with minimalist decor, outdoor setting and a simple Japanese menu. As the name suggests, the restaurant serves most of their meals in a bento, which is a traditional Japanese lunchbox, usually comprising rice, greens and sashimi. But here at The Bento Company, the cute red box has eclectic combinations of chicken, seafood and vegetarian preparations.
As hardcore meat-eaters, we recommend you try their Singaporean-style sweet and sour fish bento that comes with burnt-garlic-fried sticky rice, stir-fried exotic veggies, cucumber pickle and fruit salad. The chicken Yakitori bento was quite a delight too. Perfect for a full-belly luncheon, this comes with well-cooked skewered chicken topped with sriracha mayo which is served with firecracker rice, coleslaw and pickled radish. Vegetarians, you must go for the Nasu Dengaku bento comprising grilled eggplant topped with chef's special spicy sauce, with a side of sticky rice balls and salad.
Sushi lovers, don't leave the restaurant without trying RK's fire roll (with smoked salmon, gunpowder and green chilli) and the prawn tempura roll in spicy mayo.
So, We're Saying...
The Bento Company is your answer for an affordable, healthy and mouthwatering Japanese meal.
Comments