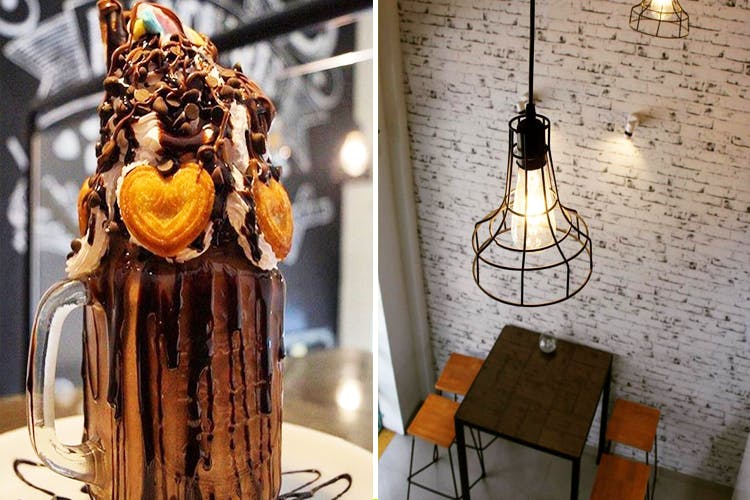 The Monstrous Nutella Freakshake & Fruity Rainbow-Loop Sundae Are Dessert Goals
Shortcut
Now it's no surprise that The Creamery at Salunke Vihar is Pune's most sought-after dessert joint. We all know about their decadent faloodas and ah-mazing waffles, but the Nutella freakshake and the rainbow-loop mini sundae just gave us major dessert goals!
Tell Me More
This one is for all the chocolate fans in the house. If you haven't tried it yet, you've got to experience the Freaking Nutella at The Creamery to believe how good it is. Priced at INR 350, the freakshake is served in a mason jar, which is loaded with choco pie, whipped cream, choco chips, colourful marshmallows, pretzel sticks and little hearts. The shake is thick and has a hint of mocha flavour in it. If you're not a fan of chocolate freakshakes, then go for the rainbow-loop mini sundae for INR 250. Presented in a cute small mason jar, the dessert is religiously topped with vanilla ice cream, fresh cream, colourful candy-like loops, strawberry-raspberry sauce, cherries and other seasonal fruits. It's not very sweet and has a refreshing fruity burst and essence to it. We say, just try it!
So, We're Saying...
Head to The Creamery and get a sweet, sweet sugar rush!
Comments