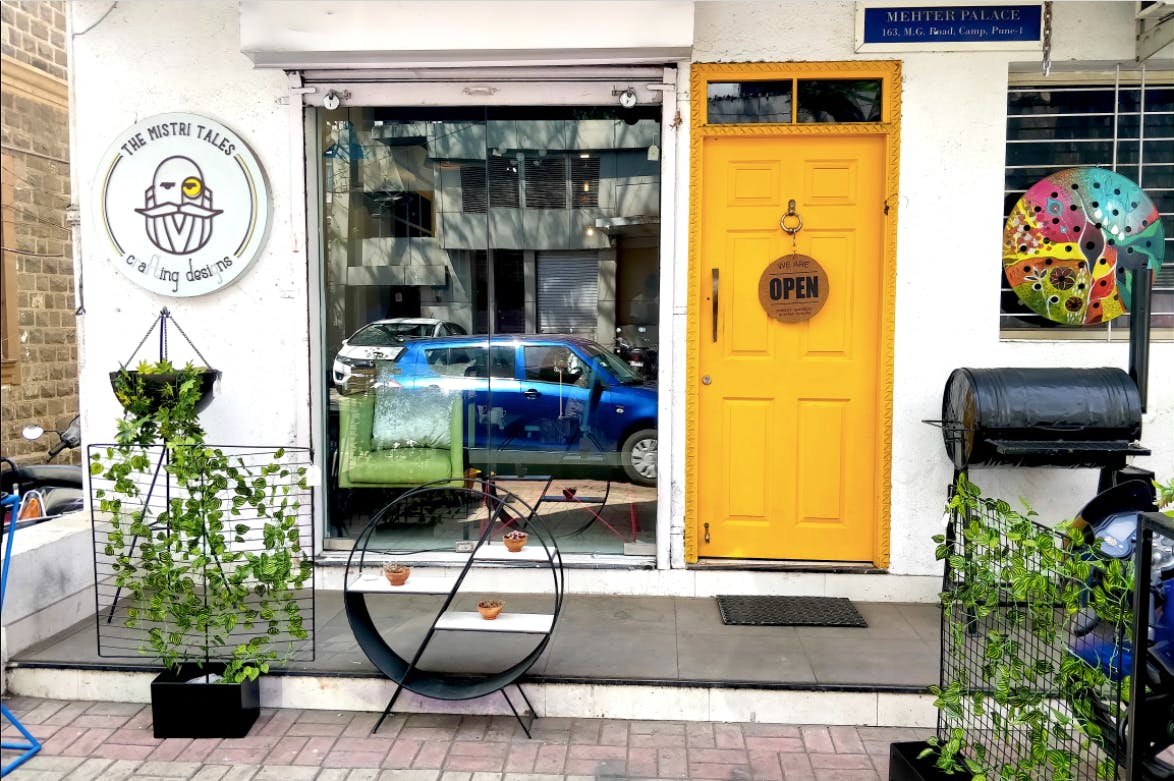 We Found The Hidden Store That Did The Decor For German Bakery & You Can Shop There Too
What Is It?
Ever entered a quaint little cafe in Pune and wondered how did they manage to source all that cute decor? Think about German Bakery, Sante Spa Cuisine, and very recently Persepolis and Cafe Pondi – one thing that is consistent in all the establishments is the impeccable ambience, almost out of a Pinterest feed!
How about we tell you Team LBB has managed to track down the 'four men' behind these quirky interiors, and here's how they'll help customise your home that matches your personality, demand and of course, budget. Keep reading.
What's In Store?
The brainchild of four friends – Naitik, Amirali, Imran and Rohit, The Mistri Tales is perhaps the cutest and the cosiest furniture store we've come across in a long time. Tucked inside one of the busiest lanes in Camp, near Hotel Tryluck, the store can be an easy miss despite its bright yellow door, spotless white walls, funky planter sets and a globe shelf on display at the front porch.
The interiors of the store rightfully compliments the exterior; a bricked wall at the furthest end, caged lights and chandeliers hanging from a black ceiling, multi-colour shell seats and corkage stools occupy the central space, unconventional mirrors and clocks on the wall, a Bohemian trunk in a corner somewhere and offbeat knick-knacks everywhere- The Mistri Tales is a powerhouse of incredible designs.
What We Love
Mostly everything we saw! Although, some of the interesting pieces include 'a lamped bench', 'globe shelf', 'bugle lamp' and the Victorian calendar clock. Apart from these, must check out their collection of pyramid-shaped cushions, multiple planters in the shape of caterpillars, capsules, kites, a sewing machine storage and tables with the wackiest legs imaginable.
The Mistri Tales is all about peppy, modern and functional furniture, ranging between INR 3,000 and INR 20,000. However, here's the best deal – Every piece of furniture out here can be re-made using cheaper alternatives. So, for instance, if you love something that is slightly out of your budget, their team can customise the same piece of furniture with different materials, that'll cost you less. Pretty cool, right?
Comments