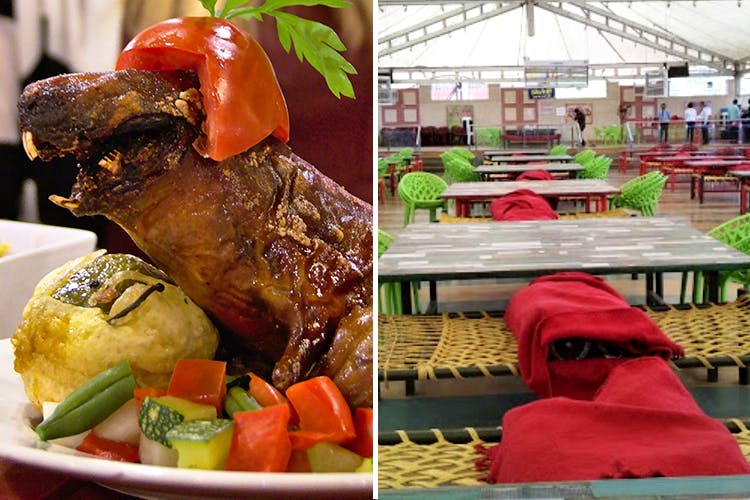 Guinea Pig To Black Chicken: This Dhaba Is Serving Some Wacky Meaty Dishes
Shortcut
This one's for those hardcore non-veg eaters who love to experiment with their meat. Head to Toni Daa Dhaba on old Mumbai-Pune highway and dig in to lip-smacking meaty dishes that are NOT chicken, mutton or fish.
Tell Me More
How weird is very weird? If you get icky about meat dishes that are not your quintessential chicken and mutton curries, then perhaps this one's not for you. But if you're all in to try something yummy, different and succulent, keep reading.
At Toni Daa Dhaba, the 'highlight' menu features dishes made of guinea pig, black chicken meat, emu and quail. We loved the special emu tikka masala for INR 820. The meat was cooked to perfection and cooked in rich Indian spices, butter and ghee. Slightly high on price, the kadak nath handi for INR 1,650 is a must-try. Also, there's a good chance that this is the only dhaba in town that cooks this dish. Kadaknath is a breed of chicken that has all-black meat. Naturally, the dish has a natural dark colour.
Love meat that melts in your mouth? Try the khandari guinea or the guinea chilly dry for INR 1,150 each. If you're a newbie to this meat-game, why don't you give zaafrani turkey a try? Priced at INR 1,150, the dish has big chunks of turkey flesh, soft and succulent, cooked in garam masala and Lucknowi-style curry.
So, We're Saying...
We love all kinds of meat, and if you do too, Toni Daa Dhaba is a must-visit!
Comments