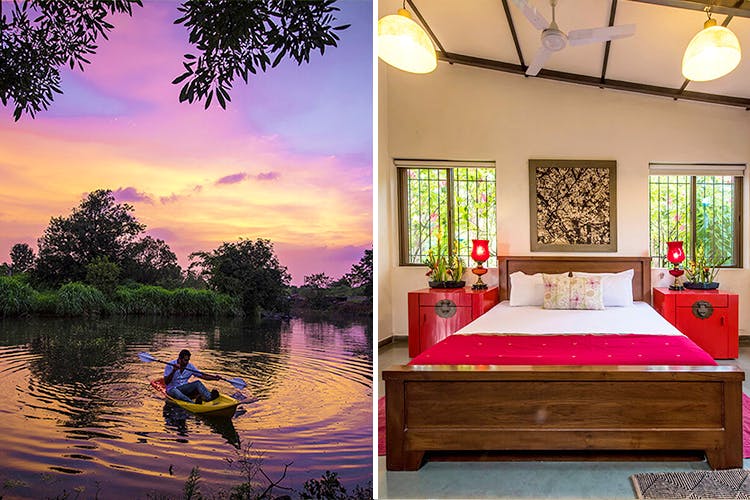 No Summertime Sadness: Check-In At This Gorgeous Room On Your Next Vacay
What Is It?
Tooth Mountain Farms is a luxurious boutique farmstay, located in the scenic setting of Karjat. Rustic, but oh-so-stylish, the property here is the embodiment of a nature and art lover's dreams-come-true.
How Do I Get There?
It shouldn't take you more than 2 hours (approx 98.5km) to get to Tooth Mountain Farms from Pune by road. The property is located next to ND Studios on Karjat road, and you can find detailed directions here.
What Did I Like?
We love the artsy feel of the property – featuring 5 suite-style rooms (for a maximum of 18 people), split between the main bungalow, and a pool-side outhouse. Each room has it's own theme – named after a flowering tree (which you'll also find in the surrounding area), with colour-coding to match. They are: Parijat (night-flowering jasmine) – which is also the biggest of all the rooms; Palash (flame-of-the-forest), Amaltas (golden-shower-tree), Ashmantak (purple orchid), and their newest addition – Basant Rani (pink trumpet tree). The former two are located in the main villa, while the other three are in the secondary villa (the 'out-house'). Tooth Mountain Farms is spread over 20 acres, and also features a natural man-made lake (ideal for swimming or kayaking), a lap-pool, a football field, landscaped lawns, an activity area (for table-tennis, carom, chess, etc.), a small temple, a bicycle track (with bicycles to-go), and a bonfire zone complete with seating (in the garden). Adventure lovers and bird-watchers can request for a guided trek to any of the nearby forts, caves, ancient temples, or waterfalls in the Sahyadris (details here), and those who are more laid-back can enjoy recreational time at the property itself, or a dip in the pool under the shade of an old jamun tree. The nearby plant-nursery provides organic veggies to the property, and their sister-property Art Village is within walking distance, and also conducts their own workshops and activities which you can partake in (ceramics, pottery, painting, etc. at extra cost).
Anything Else?
The tariff is quite reasonable – but rates are higher on weekends and special holidays, so we suggest you plan in advance. Breakfast is included in the room fare – and you can bring your own food and drinks, or else take their fixed meal plan (lunch, dinner and evening snacks) at extra charge. You can even bring your fur-baby along, only on prior request (and at extra cost). House rules apply, and we suggest you read them thoroughly here.
Comments