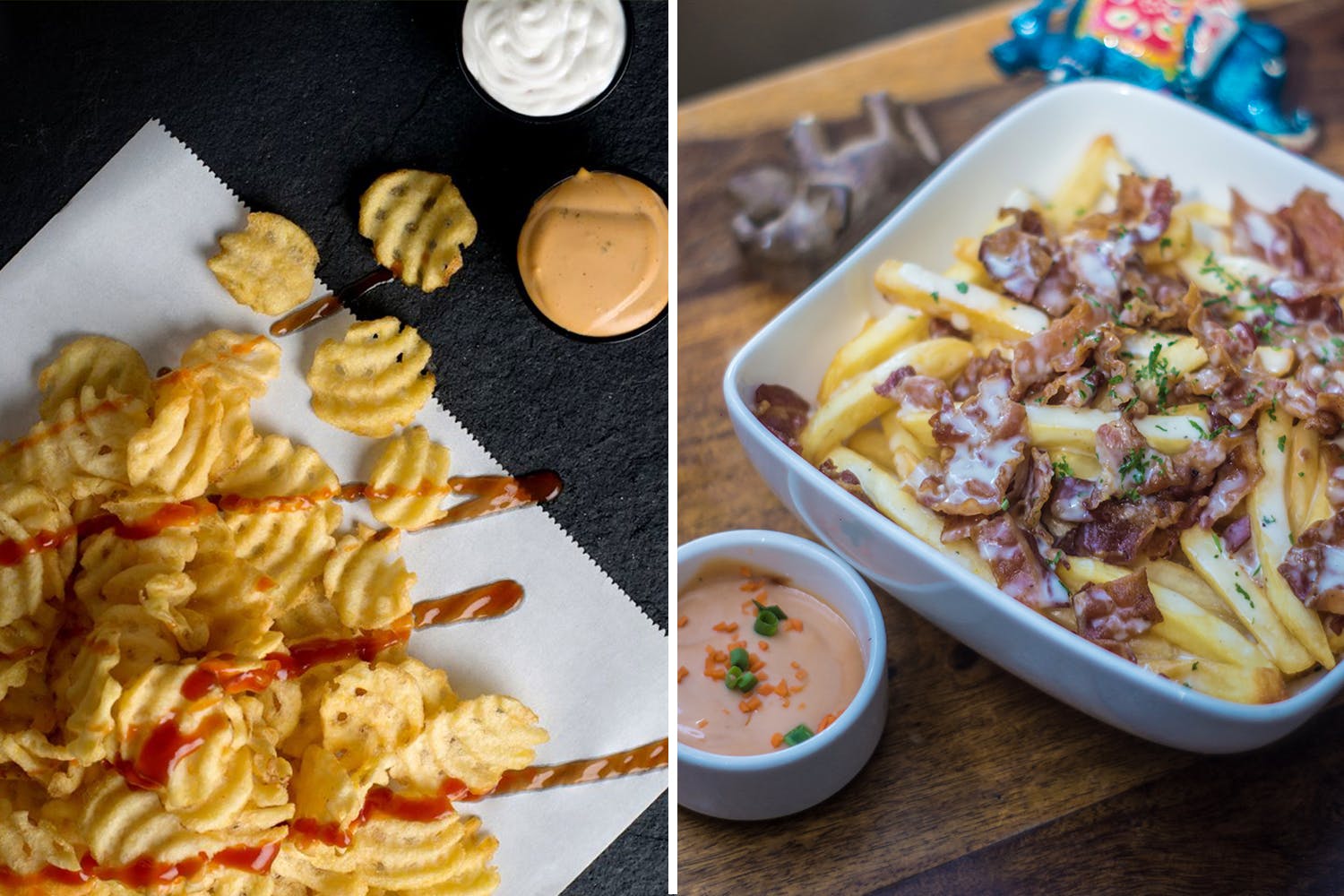 The Ultimate LBB Guide To The Top 15 Yummiest Fries In Pune
There are few things in life as satisfying as a plate of well-seasoned, crispy fries. We've eaten a lot of fries in the city – and have rounded up our top 15 picks (in no particular order). This is our LBB Guide to awesome fries.
Elephant & Co.'s Bacon & Cheese Fries
A classic combo, Elephant & Co.'s bacon and cheese fries come topped with molten cheddar cheese and – of course – crispy bacon bits. They also serve plain fries, masala fries (our other favourite), and cheese fries – all served with a side of cocktail sauce. Pair them with other food, a cold beer, or as-is; they're super on their own, too.
Burger11's Masala Fries
Burger11 may be famous for their crazy delicious burgers, but don't discount their masala fries. Served in a generous portion fit for two, these fries are seasoned with Burger11's secret spice mix and pack just the right amount of punch. You can add them to your meal to make it a combo, or order them a la carte – either way, don't miss out on them. Burger11 offers only home-delivery and they even deliver until 4 am.
The Bar Stock Exchange's XXX Fries
The Bar Stock Exchange's XXX fries make for a great bar snack. These thin, crisp fries are served in a trio of flavours, tossed in different seasonings – plain salted, cheese, and piri piri – and served with a cheese dip.
The Daily All Day's Devil Fries
Devil fries at The Daily comes loaded with a Mediterranean-flavoured chicken mince, and a creamy cheese sauce – ideal comfort food! We also love their truffle oil fries and hear that their sweet potato fries are also worth a try.
Murphies' House Fries
Murphies' house fries are 'waffle fries' – i.e. they look like jaali wafers we used to eat as kids, (but are thicker and softer than wafers). Lightly seasoned (and crisp), they come with a choice of dips – 'rum drum' (which is the best pairing), spicy mango, mint mayo, peri peri, sour cream, and saffron. They also serve Cajun fries, seasoned (masala) fries, fries on cheese, Murphies' 'special fries', and even the option of poutine (veg or chicken). We wouldn't expect anything less from this potato lovers' haven, and they sure don't disappoint.
The French Window Patisserie's Pulled Pork Poutine
Poutine is a Canadian-origin dish, consisting of French fries topped with cheese curd and gravy. The French Window's poutine is available in both veg and non-veg options, but we like their pulled pork version best of all. It's a rich dish, so don't underestimate how filling it actually is.
Mahlzeit's 'Special' Fries'
Mahlzeit's 'special fries' are a dish of home-fries, topped with 'curry ketchup', finely chopped onions, and their house-made mayonnaise. You can also add on some of their grilled chicken or 'beep' tenderloin, and yoghurt sauce (the same stuff they use in their donner kebab). It's a dish inspired by the Dutch favourite 'frietjes speciaal' – which is basically French fries slathered with mayonnaise. The addition of the 'curry ketchup' is a nod to the German street-food 'currywurst' (also featured on their menu).
L'Dorado Food Truck's Disco Fries
When in Aundh, don't miss out on L'Dorado's 'disco fries'! Seasoned French fries topped with home-made sauces, juicy chicken, and cheese – it's almost a meal in itself. They also serve prawn sukha fries, and pork fries – as well as the usual cheesy fries, peri peri fries, and plain variety. L'Dorado Food Truck is open until 10.30PM on weekdays, and midnight on weekends; plus they also have a delivery kitchen now that offers only home-delivery until 2.30AM. Your late-night munchie scenes are now sorted!
The Bombay Fries' Chilli Cheese Fries
A new addition to Salunkhe Vihar's burgeoning food scene, this fast-growing franchise has become an instant hit. Their chilli cheese fries come highly recommended, smothered with a spicy sauce and melted cheese. We also think you should try their tandoori cheese fries (topped with cheese and a special tandoori sauce), the smok'd up fries (topped with smoky BBQ sauce, chicken sausages, and cheese), and the amboo 'tornado' fries (a skewered, spiral potato – deep fried and topped with extra-cheesy sauces). It's affordable and tasty, so you can eat as much as you want without breaking the bank.
UFO Fries & Corn's Alien Fries
UFO Fries' signature 'alien fries' are peri-peri seasoned crisp potato batons, topped with a generous helping of sweet chilli sauce, jalapeño sauce, white cheese, and topped with a couple of pickled jalapeño slices. UFO Fries is a vegetarian fast-food joint, and their selection of French fries is quite extensive – not to mention, diverse, and very reasonably priced. They have five outlets in Pune; at FC Road, Viman Nagar, Kothrud, and Hinjewadi.
The J
Located across a number of places in Pune, the J has a number of fries which are a must-try. However, our favourite till date remains their nacho fries, which is available in both veg and non-veg. These nacho fries are topped with some crunchy nacho, cheese, sour cream and beans.
RoccoMama's
If you love mutton, Rocco Mama's has a treat for you. Dig into a delicious combo of perfectly cooked minced mutton added on top of crispy fries and loads of cheese. These fries come in three sizes: small, medium and large. They are for sure a must-try at RoccoMama's.
The Greedy Man's Pizzeria
Head to the Greedy Man's Pizzeria for a delightful plate of plate of French fries. They serve a nice plate of fries which is loaded with cheese and jalapenos which give it a very distinctive taste. These fries are for sure going to make you want more and more.
The Funky Kona
Too many confusing options? Try The Funky Kona's fries loaded three ways. A mix of classic, peri-peri and cheese fries served in three small small portions on a single plate, these fries are perfect for a group of friends who always call for different things at the same time.
Hoppipola
Located in Aundh, Hoppipola serves a very interesting plate of French fries. The ooey-gooey fries over here are a must-try. The fries are dipped in beer batter and fried, tossed in bang-bang sauce and lastly topped with loads of cheese. These fries are indeed a piece of heaven on a plate.
Comments