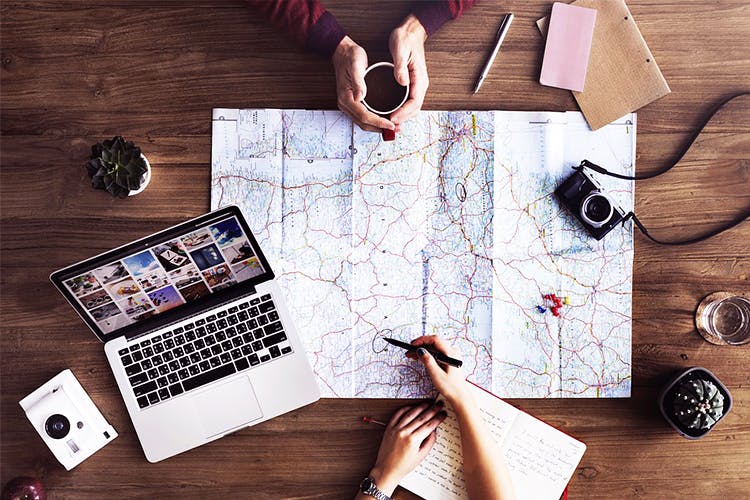 Tour The World Or Explore Maharashtra With These Travel Companies In Pune
Who doesn't love travelling? It's all the planning and packing that really kills. You can either plan your holiday with the help of websites or leave the bookings to these tour companies. Pune has several travel companies you can look at for help. All you need to do now is pick your destination, pack a bag and head out.
No Thepla Holidays
Want to take a break? Take a tour with the people who built a company because they love taking breaks. They have packages for Bali, Israel, Laos and Cambodia. They also organise short trips over the weekend around Pune. And, are very open to how you holiday and promise not to parent you. For example they'll inform you what restaurant they'll be at for breakfast, but you're free to go somewhere else and can ask them for recommendations. Their holidays also usually include accommodation in hostels, apartments, tents and the likes. So, it's going to be a fun holiday with a bunch of other young, like-minded people.

TripHobo
Based out of Pune, TripHobo is a trip planner portal that you can use to make your travel seamless. There are also pre-set itineraries to places like Paris, Singapore, Dhaka among others. But no matter where you're planning to take a trip to in the world, the portal has information for everything and will help you book and plan your trip well.

Millennium Travels
With an office in Shivaji Nagar, Millennium Travels is your traditional travel company that has a bunch of packages. It's an IATA accredited travel agency that takes care of your itinerary, tickets, hotel bookings, foreign exchange, travel insurance and anything else you need. And, it provides student, honeymoon and corporate tours as well. They've previously booked tours for University of Pune, and several other corporate companies as well. Whatever destination you may want to take a trip to, you can book it via this company. It's old-school, so you know there's going to be little room for error.

Girikand Holidays
Another IATA accredited travel company, Girikand Holidays is an old-school travel agency too. And, they've got tailor-made group tours that you can opt for, or get them to plan your itinerary and book your travel and stay at a destination of your choice. Like any other travel company, they also have honeymoon packages, corporate holidays and tours for women, family and senior citizens. You can be sure to have the best of amenities while you're traveling. And, it'll be affordable too.

Explorers Treks & Tours
Since 2001, Explorers has been organising treks and is extremely organised when it comes to scheduling their tours. It came about out of sheer love for wilderness and adventure sports, so they try to inculcate that by organising tours for 10-year-olds, right upto 70-year-olds. You can opt to trek around Pune over the weekend or scale Mount Everest too. They also have India and world tour packages and corporate and honeymoon packages as well. You needn't worry because you'll definitely find some trek or tour that you'll love to go for.

Ask Junisha a question