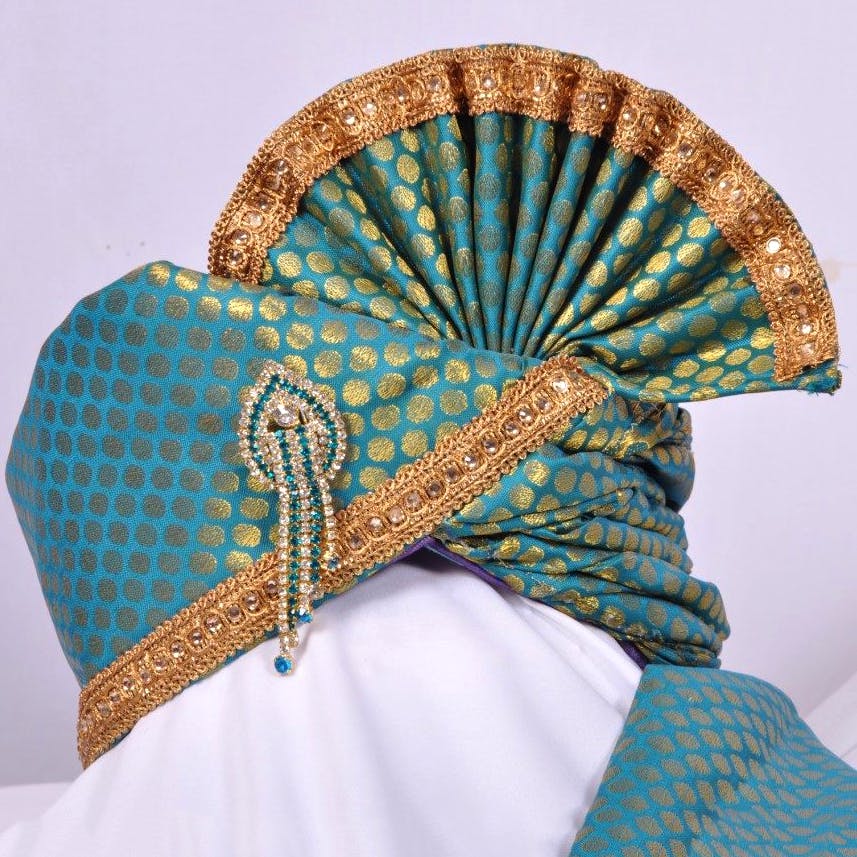 Look Royal Wearing A Turban From These Stores In Pune
A paghadi or a pheta doesn't go out of style and donning one at a wedding, makes you look regal. So if you're getting married or are prepping for a big shaadi in your family, you must pay a visit to these stores in Pune that have a range of turbans.
Sai Phetewale
From traditional light-coloured turbans to deep-coloured elaborately designed ones, Sai Phetewale has it all. The store makes a huge variety of turbans from different materials. You can find cotton turbans in bright colours. However, given how jazzy weddings are these days, they offer turbans with brocade and silk borders. You can either buy the clothe here if you know how to tie it or you pick up a stitched one.

Mayur Pheta
Not just Maharashtrian style, you'll find turbans from all over the country at Mayur Pheta stores. Discover styles from Banaras, Rajasthan, Gujarat and other states. The store has a major collection of turbans for grooms. They also specialise in baarati turbans, which are generally orange or pink in colour. You can either get your turban tied here or get it stitched.
Murudkar Zendewale And Phetewale
Located in Budhwar Peth, Murudkar Zendewale and Phetewale have a good collection of turbans. Specialising in the Kolhapuri-style turban, this store also customises. The store also offers the red turbans worn by soldiers of the historic Mavala army of Maratha empire. Along with turbans, you can also find different varieties of shawls as well.
Khandare Phetewale
Find elaborate, simple or even embroidered turbans at Khandare Phetewale in Raviwar Peth. The store has a huge variety of turbans to choose from. We loved their turbans made with bandhani cloth. The store also does made-to-order Puneri as well as Mavala turbans. Like others, this store also has an option of selecting between readymade and cloth-by-meter.
S.K. Jariwala
Find the classic Puneri turban at S.K. Jariwala in Raviwar Peth. The store is predominantly known for zari turbans. These zari paghadis are majorly made in lighter colours to highlight the gold work. You can find designs in checkered zari turbans as well. The store also provides paghadis on rent for all occasions.

Comments