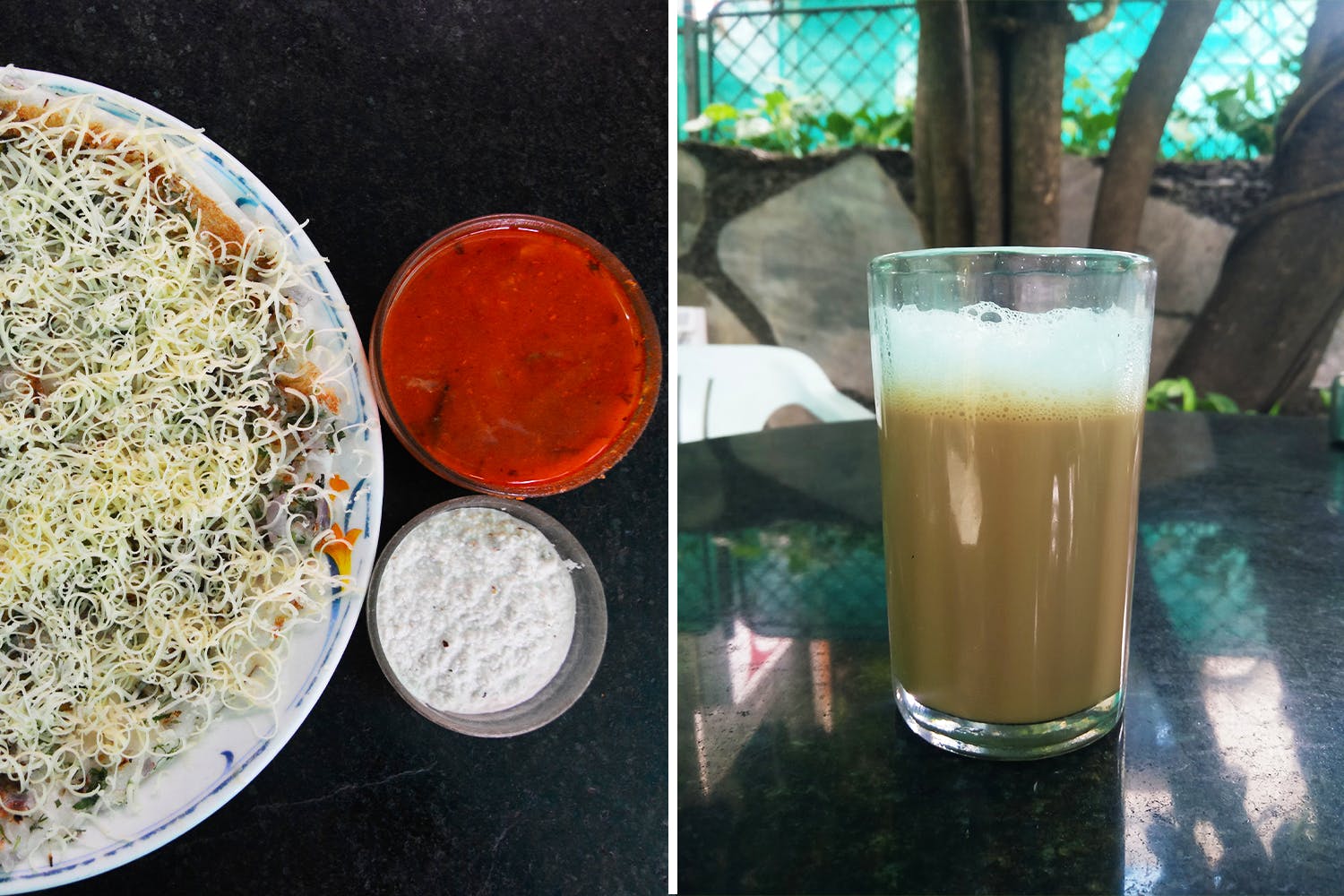 Cheese Uttapam, Coffee & More: 5 Things You Must Eat At Vaishali
Vaishali on FC Road is not just another neighbourhood eatery. Why, you ask? Initially established as Madras Health Home by Jagannath Shetty, Vaishali is one of the legendary restaurants in Pune, a landmark of sorts, that has been serving mouthwatering South Indian cuisine since 1951.
While we love everything on the menu, here are our top 5 picks from the restaurant for those who have never eaten at Vaishali.
Cheese Onion Uttappam
Uttappam is a staple South Indian breakfast or snack that looks like a thick pancake topped with onions, chillies and tomatoes. One of the fewest restaurants in the city that get this dish on point is Vaishali on FC Road. We highly recommend you try their cheese onion uttappam for INR 140, served with sambar (which is tad sweeter than usual) and coconut chutney.
Mysore Cheese Masala Dosa
Another bestseller at Vaishali is the Mysore cheese masala dosa, priced at INR 170. The batter is made of sona masuri rice and urad dal. Once made, the dosa has a nice crispy exterior with golden brown hue. A spicy homemade red chutney is smeared inside the dosa, which is then stuffed with aloo sabzi. The final dish is served with sambar and thick coconut chutney.
Filter Coffee
While a lot of restaurants may not get this right, Vaishali is known for its authentic filter coffee for INR 80. The beverage is perfectly brewed and strikes a beautiful balance between sweet and bitter.
Dahi Wada
Next time you're at Vaishali, must-try their scrumptious dahi wada (for INR 90) made of crunchy medu wadas soaked in whipped sweet yoghurt, topped with coriander, chilli, sweet and spicy chutney.
Mango Shake
A seasonal favourite, the thick mango shake at Vaishali is the most belly-filling drink of all time. Priced at INR 140, the drink is quite sweet and fruity and has a pulp-free satin texture. In short, this summery drink is a must-have out here.
Comments