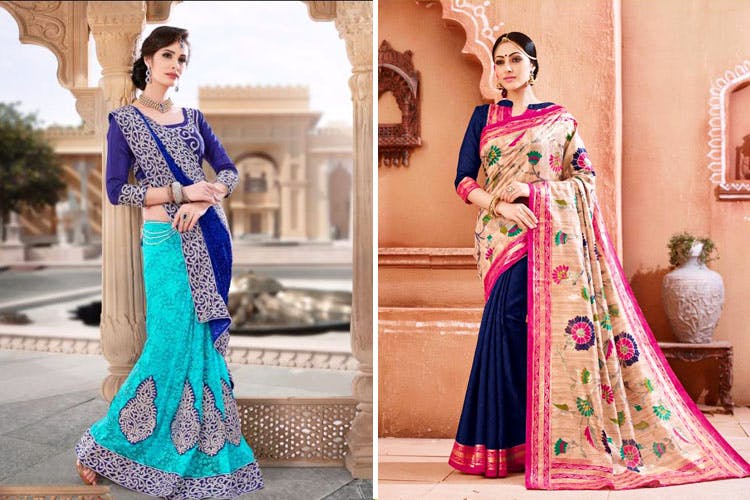 Brides-To-Be, Here's Where You Should Go For Wedding Shopping In Pune
For those who are getting married soon, you must be going crazy with all the shopping. Following up with the tailor, florist, travel-agent can be daunting. So before you turn into a bridezilla, here's where you can go to find the best for your special day.

Designer Lehengas At Jhelum Fashion House
Shortlisted three of your top designers? Think again. Jhelum Fashion House has more than 50 designers under one roof. From Sandeep Khosla to Abu Jani, you can select an exquisite trousseau, complete with lehengas, suit pieces, ethnic gowns and a few accessories too. You can also pick up a grand cocktail gown and rock your cocktail party or sangeet in it.

Sarees From Tathastu
For some or the other ceremony in the series of events, a saree is a classic choice. Tathastu Emporio on Kumthekar Road offers a number of designer sarees starting from INR 1000. And for Maharashtrian brides, you can also get a beautiful navari (nine yards) saree stitched from here.

Make An Outfit From Scratch At Clover Center
Of course you want a bespoke outfit. That way no other bride will have the same wedding outfit as you. Head to Clover Center in Camp to make your desired outfit from scratch. With a huge variety in silk, embossed cloth, brocade, among other materials, Clover Center is a bride and her designer's heaven. Apart from the fabric, you can also find a number of patch works, latkans, laces and much more from Clover Center.

Jewellery From Saraf-Aali
If you ask your grandma about where to buy jewellery from, she would definitely mention Saraf-Aali near Laxmi Road. With a number of big and small jewellers along the street, Saraf-Aali is your destination to shop for certified diamonds, gold, pearls and more. You can find a number of traditional pieces and can also get customised jewellery.
Rent Jewellery From These Places
If you are a bride who doesn't want to invest a lot in jewellery, you can rent it from Jewel Paradise, Ornorent, Aradhana Jewellers, Swasa Collection, and Riwaaj Lifestyle Jewellery. A number of these places also allow you to rent real jewellery. To know which ones, you can read here.
Ask avirat a question