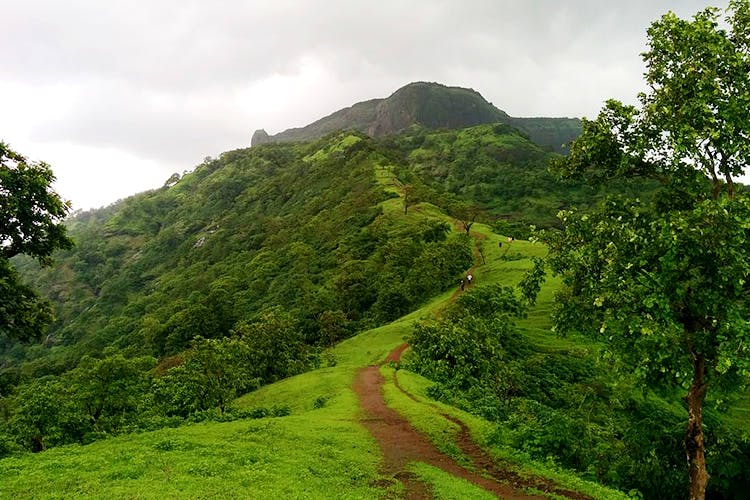 a-day-out-in-matheran-pune
What Makes It Awesome
Matheran is the perfect place to go if you're planning on visiting a quiet and peaceful spot during the weekends. Get your trekking boots ready and make sure to put your adventure mode on. Matheran, the smallest hill station in India and the only automobile-free hill station in the whole of Asia has various things in store for you. Remember, it is a tourist place and to see exotic and breathtaking sites you will have to take that extra effort. Go with a bunch of friends and do not be scared to explore. Since, vehicles are not allowed, be prepared to walk a lot. Plan your trip in a way that all the points can be covered, keep the points that are closer to you as your priority. Some of the really good points to see over there are: 1. Sunset Point near the market is so beautiful. A walk from the forest amongst dogs and monkey, this path is definitely less taken. Hardly any tourist visits this spot due to the long walk through the forest. If you and your friends are not the explorers and adventurous kind of people, your buzz will be killed with the unwillingness to go. Go with a set mind of exploration and adventure to seek the beauty, to see a point where clouds will be below you, rain will happen below you and the moon rise will take your breath away. 2. Eco Point is a little trek down the lane is also absolutely beautiful. The hills below you are covered in clouds, small streams, waterfalls, lakes all under an open sky can be witnessed. 3. Take that extra effort to go further to visit the Louisa Point. Though this point is not located close to the other points, it is worth visiting. Definitely, it takes a long time to reach there and go back but it is worth the visit. If you're not comfortable walking all the way, you can take the horse ride. The horsemen are very friendly and you can get to hear various stories by them about the place. 4. Not the exact Charlotte Lake point but stop midway where you can see the lake clearly. Inhale the fresh air, grasp in the beauty around you and carry on your journey. One thing to keep in mind while in Matheran is the negotiation, if you are in any way planning to get a horse ride, have firm negotiation skills. The prices can be quite high and are definitely not so reasonable. A toy train runs from Neral to Matheran on the edges of the cliffs. The scenery is beautiful, the experience is breathtaking. However, the train is not functioning these days. There are around 38 designated look-out points in Matheran, including the Panorama Point that provides a 360-degree view of the surrounding area and also the Neral town. From this point, the view of sunset and sunrise is simply surreal. There are a lot of resorts, hotels, and cottages that you can book online for very cheap rates. You can go there and book hotels on your own, as well but it wise to book online before going. We stayed in a cottage called Kshitij Cottage which was extremely spacious and squeaky clean, talk about being perfect!
What Could Be Better?
Opt to travel with an enthusiastic and adventurous group. The ways and paths can be extremely muddy which can tick you off but at the end of the day it is a forest and one has to take all of that into consideration when in the wild. Food is a major issue if, you don't like vada pav all the time then all throughout your tour you will have to survive on maggi.
What's My Pro Tip?
No vehicles are allowed so if traveling by car then please be careful while you're at the ghats.
Anything Else?
The place is beautiful but again, all the people from surrounding big cities head to Matheran during the weekends, so the spot can get crowded.
Comments