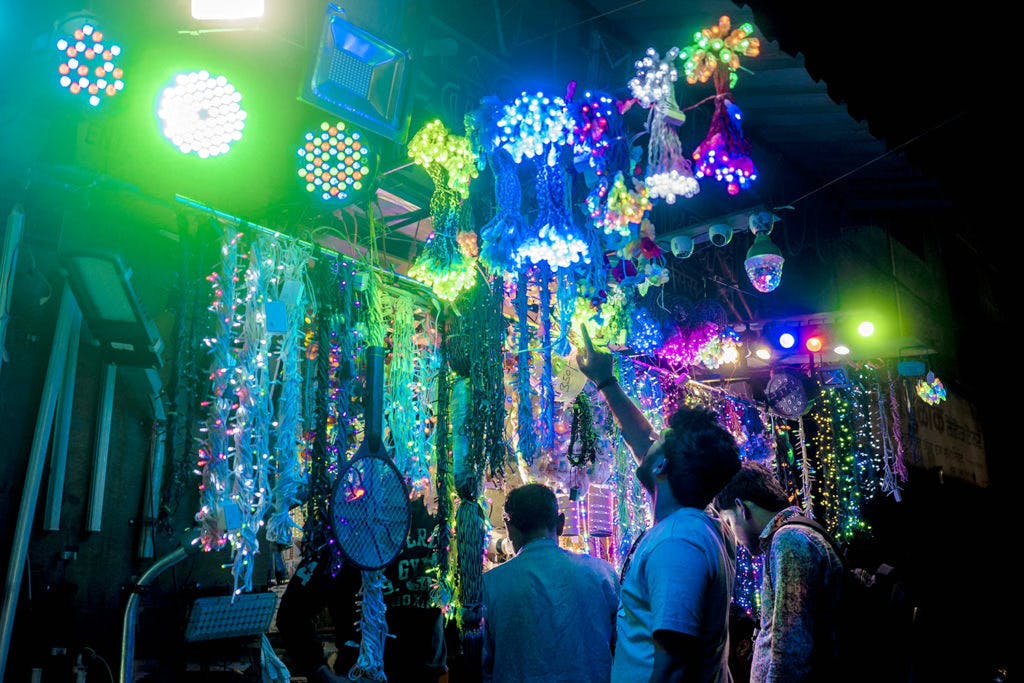 Shop Without burning A Hole In Your Pocket At These Wholesale Markets In Pune
Did you know you can shop for amazing stuff without being harsh on your pockets? How, you ask? We have an answer- Wholesale Markets. Yes, the city has no dearth of these markets where you will find things ranging from fabrics to electronics, jewellery to vintage furniture. Bookmark these places for your next shopping spree.
Shivaji Market
Built way back in the late 19th century, Shivaji Market is a one-stop-destination for exotic flowers, an exuberant range of fruits and vegetables and fresh meat at wholesale rates. Explore the market a little more and you'll be surprised to find Goan ready-to-cook masala pastes, colourful glass bangles, gourmet sauces, middle-eastern za'atar, Vietnamese rice paper, Iranian spices and Sindhi papad from here. For more details, read our recommendation on Shivaji Market here.
Tapkir Galli
Chandeliers for INR 350 & lanterns for INR 200, we went shopping at Pune's very own light market – Tapkir Galli at Budhwar Peth and came back totally dazzled. From crystal wall lights, starting at INR 500 to neon fairy lights for INR 120 per metre, Tapkir Galli is a treasure trove for all your artsy light decor needs. Before you head there, check out our recommendation here.
Juna Bazaar
Love the idea of doing up your space with antique decor without breaking the bank? Juna Bazaar is your answer. Open on Sundays and Wednesdays, between 9.00 am and 5.00 pm, this place has gramophones, old-school telephones, vinyl records, second-hand furniture, brass figurines, ancient door knobs and more, starting as low as INR 200.
Laxmi Road
Laxmi Road is the answer to a broke 20 something's wardrobe makeover in a budget. From affordable clothing to junk jewellery, camel leather shoes and backpacks, here's everything we bought from Laxmi Road for as low as INR 100.
MG Road
From embroidered fabric for INR 2,100 per metre to printed cotton material for INR 150 per metre, MG Road's plethora of fabric stores will spoil you for choices. We highly recommend you check out National Fabrics and Nazakat for quirky yet affordable options in ikkat, kalamkari, silk and more. Read more on this here.
Appa Balwant Chowk
Known as the open street library of Pune, Appa Balwant Chowk or ABC is situated on NC Kelkar Road, in Budhwar Peth. The crossroad has book stores – big and small, at every possible nook-and-corner. Competitive exam books to bestsellers, recipe books to Urdu literature, whatever it is that you are seeking, you shall find at ABC at wholesale rates. Read more here.
Bajirao Road
Spanning across Puram Chowk near Shaniwarwada, Bajirao Road is considered as the furniture paradise of Pune. If you're hunting for a tall strong wooden wardrobe or a customised king-sized bed, Bajirao is the place to be!
Buy a kitchen cabinet or a work desk, at half the price as compared to brands. And, for those who love to design and like to personalise their space, get your furniture custom made.
Bohri Ali
Dates back to early 18th century, Bohri Ali is perhaps one of the busiest and most colorful lanes on Raviwar Peth. Retaining the old-school Poona charm for generations, the lanes and by-lanes of Bohri Ali are a treasure trove for all your DIY needs- from industrial paints to home decor, antiques, hardware supplies, stationery and much more. Read all about it here.
Burud Ali
A rickety auto ride from Raviwar Peth towards Ganesh Peth will lead to you a lane with stacks of bamboo canes piled up on either side of the narrow strip. Welcome to Burud Ali, where the lesser-known community of cane craftsmen reside, and manufacture all sorts of cane artifacts – from lamps to mats to hand-woven baskets. We found cane swings for INR 700, table mats for as low as INR 30 and fruit baskets for INR 50 out here. Pretty great deal, right?
Comments