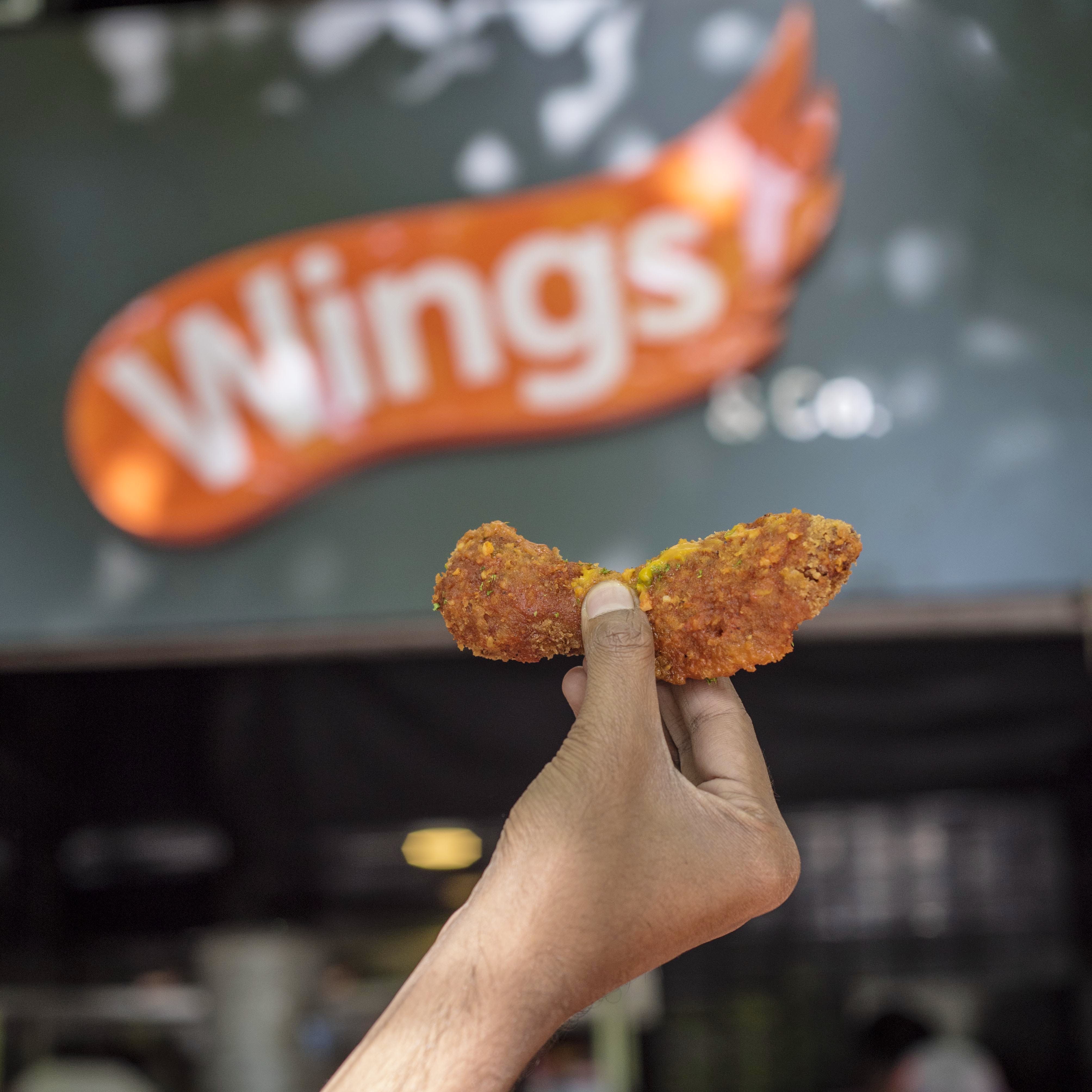 We Dare You To Try Out The Spiciest Chicken Wings In Pune
What Makes It Awesome?
Crispy, tender, juicy and dipped in sauces, chicken wings are indeed, love. Taking this love for chicken wings further, the brother-sister duo Pratham and Pooja Konde have introduced Wings and Co. An entire cafe, dedicated only to chicken wings. And, they have a challenge for you.
To break down the perspective of chicken wings as a bar food only, the Kondes came up with the concept of an wings-only cafe in Pune. The cafe has a menu that is a rather simple one. But before that let us take you through the cafe.
Located near Ganpati Chowk in Viman Nagar, this cafe is very easy to spot. With a capacity of 16 people at a time, this cozy cafe has some really chill vibes, friendly staff and good wings. The only thing missing here is a cold pint of beer.
Coming to their menu, Wings & Co. offers a make-your-own wings option. And, these wings aren't your average bar sized wings. They serve you full-size wings, which are really fulfilling. You can select how you want your chicken wings to be fried. The options include: wok tossed, crunchy fried, glaze baked and pan grilled. After this you select form their sauces according to your taste. You can choose from Thai chilly, jerk cajun, spicy Korean, hickory-smoked, honey mustard, garlic parmesan, peri-peri mango and the mean and spicy - bhut chilly. We dared to try their bhut chilly sauce and we kid you not, it's like it is forged in the fires of hell. If you love your lips getting numb and eyes watering, this is the chicken wing for you. To tone down our spice sufferings, we balanced bhut chilly's hotness with the sweet and tangy peri-peri mango. Made in crunchy fried style and topped with the tangy peri-peri mix and with the naturally sweet mango syrup, this flavour is a crazy and good combination.
What we learnt at the eatery is that, you can try out your own combinations, method of cooking and sauce. But, if you really want to enjoy the best of their wings, it is advisable that you ask for suggestions. Along with the sauces, you should also try their side dishes such as chilly fried rice, garlic-tossed noodles, house salad and other options.
Since Wings & Co., is perfect to go with your squad and every group has that one token vegetarian friend, the cafe also does paneer in wing style. And if you are that one person who's afraid of getting messy in public, they also have an option of boneless chicken wings.
Apart from food, the cafe also has some good variety of drinks to offer. We liked their refreshing kokam sarbat which was for INR 99. Wings and Co. also offers a number of thick shakes starting at INR 130. If you do intend to take the bhu-chilly challenge, do pre-order a thick shake. Trust us, you'll need it.
What Could Be Better?
We're hopeful that they come up with some sort of an alternative to beer or at least introduce non-alcoholic beer.

Pro-Tip
We recommend you try hickory-smoked wings. The hickory sticks add a lovely smoky aroma and flavour to any meet smoked with them.
Ask avirat a question