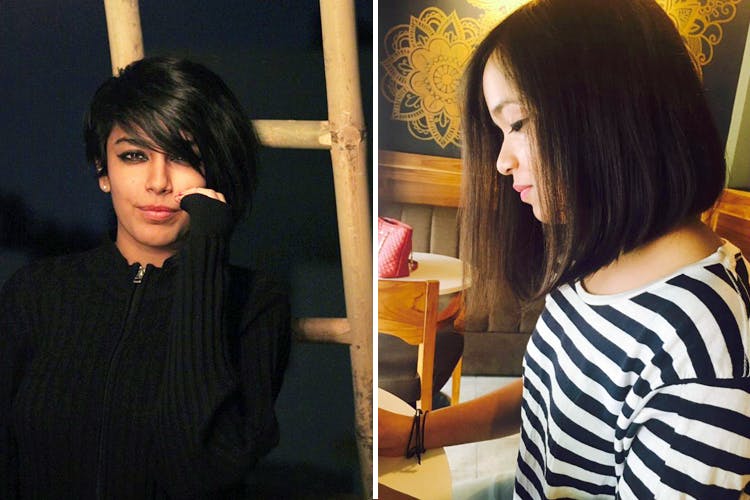 Pixies, Bobs And More: Five Pune Women Spill Their Short Hair Secrets
A short haircut can be a tad bit intimidating and perhaps, not everyone's cup of tea. But we came across these gorgeous ladies with super short hair and asked them to share their local secrets.
Anushila Bhattarai
A student of political science and international affairs, Anushila loves to keep her look simple, edgy and classy. And for her, a short sleek crop does the magic. When it comes to hair cuts, she swears by the service at Meshail on FC Road. She says, the senior stylists out there will recommend you a hair cut that is best for your hair texture & volume and suits your face structure.
Anushila has a heart-shaped face with wide cheekbones, and a ultra-short hairstyle is highly recommended. Her latest haircut at Meshail cost her around INR 1,500 that included a hair wash and post-snip styling. For maintenance, she uses the enrich moisturizing treatment shampoo and masque by Wella Professional.
Anandi Saha
A pixie cut with a sleek side bang was Anandi's style of choice when she got bored of her long hair. Her go-to salon in Pune is H20 at Lane 6 in Koregaon Park. Her last snip cost around INR 800, and she told us that she felt that if someone wanted a good haircut in the city, they shouldn't look beyond H20.
Anandi has naturally wavy thick hair and recommends heavy conditioning and a daily leave-on serum to tame them strands. Her recommendation is to go for BBlunt's intense moisture hair serum.
Ayushi Saini
Ayushi is fiercely possessive about her short hair and finds it extremely liberating and hassle-free to maintain it. A fan of classy and modern cuts, Ayushi's last snip, that cost her around INR 1,500, was done at Mink By Shailesh Mistry in Koregaon Park.
She is not a very big fan of over-the-top styling and prefers to keep it simple and carefree for an everyday look. Ayushi highly recommends the Back To Life dry shampoo by BBlunt and the BC hair activator shampoo by Schwarzkopf.
Sakshi Prakash
Sakshi is a fashion design student who is always up for some experimentation with her hair. From undercuts to pixies, and currently an asymmetric angled bob, Sakshi has nailed 'em all. Her most-trusted salon in town is The Little Hair Salon at Viman Nagar. She says the stylists are experienced and will give you what you want. The prices are slightly expensive, but she says it's totally worth it 'cause you're in really good hands. Her last snip cost around INR 2,300.
Sakshi has naturally straight and silky hair with medium density, and prefers not to use tons of products. She recommends the nourish and replenish shampoo by Tresemme and the shine hairspray by Bed Head.
Comments