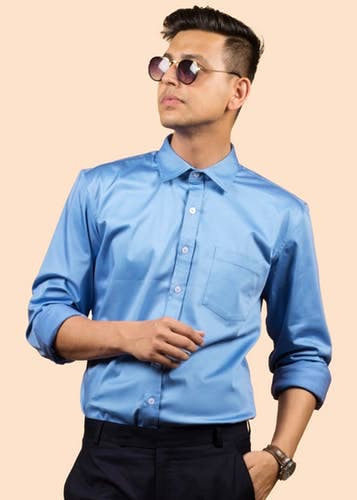 Bro, These Workwear Shirts Will Make Monday Mornings A Whole Lot Easier
Who said workwear has to be boring and plain? With fashion trends breaking all boundaries, many brands are coming up with designs that are traditional yet contemporary. Here is a list of five brands for work wear shirts for men that you can find on LBB's website:
Moda Hombre
Classy, stylish and affordable: Moda Hombre makes formal shirts for men accessible and comfortable. Their shirts are perfect for a boardroom meeting or a casual outdoor meeting. You can choose from different cuff types such as angled, strips or french. They even have options when it comes to collar-down, notch and cutaway. The starting range for their shirts is INR 1,699.
Aurum Luxe
Aurum Luxe has been delivering premium quality work wear for men for quite some time now and has built a fan following among customers. You can choose from a plethora of designs and materials. From checkered prints to bold colours, stripes, florals and much more. Don't be afraid of adding some colour to your work wear. Aurum has a great collection of printed shirts that are not too loud to wear at work. The price range for Aurum Luxe shirts starts at INR 799.
Portray
Portray is a brand that believes in giving back. They design formal shirts for men made of organic cotton. Their shirts are perfect for people who have sensitive skin as heir fabric is free of artificial or synthetic pesticides. You can choose from a collection of striped, checkered or solid coloured shirts starting at INR 1899.
Bareek
Bareek is a young brand that believes in bringing the craftsmanship of Indian artists into the spotlight. Their shirts are handmade with organic cotton. This brand is perfect for the youngsters that are just stepping into a corporate world. You can keep a casual look while looking formal in shirts by Bareek. Their shirts come in subtle colours in many different styles starting at INR 1,600.
Happy April
With simple prints like polka dots, triangles and two-toned or classic shirts, Happy April offers men options that are classic and mostly light coloured. Which is great, because who wants to wear heat-absorbent colours to work anyway. We loved the blue classic shirt that'll fit right for a meeting. Also try out the polka dot printed white shirt, which is a fun twist to a simple white shirt; or opt for the textured white shirt to keep things more formal. The brands prices range between INR 1,199 to INR 1,299 and it's worth the quality of the material.
Comments