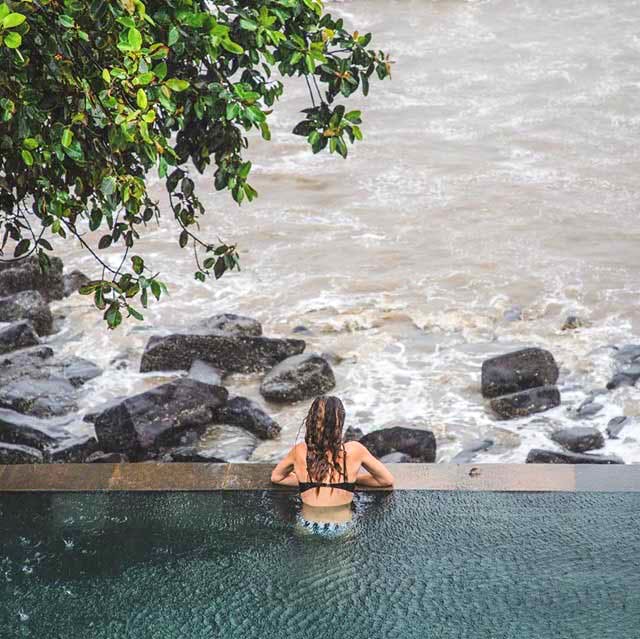 Would You Blame Us For Obsessing Over These Infinity Pools In Goa?
The best part about Goa is that a dip in an infinity pool can be enjoyed at any given point of the year. Whether you want to people-watch while sipping on a mimosa or enjoy a languorous swim with ocean views for company, these infinity pools in Goa have you covered.
From hip hideouts in South Goa to the tourist-filled places in North Goa, here's where to make a splash.
Ahilya By The Sea
This is a boutique property tucked away in a quiet corner of Goa. Situated at Dolphin Bay, Ahilya is a tastefully decorated property that boasts of two beautiful swimming pools, a spa, three independent villas, a gorgeous tree house and magnificent views. The Sunrise Infinity Pool sets the mood right for an early morning workout, a quiet dip to welcome the sunrise, or even to laze around in the afternoon. Surrounded by pink and white frangipani and covered by the shade of the coconut trees, this infinity pool provides panoramic views of the ocean that are totally worth your Instagram feed!
This property is ideal for couples looking at a romantic getaway. Tariffs start at INR 10k.
Alila Diwa Goa
Alila Diwa Goa is a luxury hotel situated in Majorda and easily one of the best boutique properties around. This luxury hotel has two swimming pools, luxury villas, suites, spa treatments, wellness packages and beautiful views of the farms and greenery and the ocean in the distance. The infinity pool by the bar is perfect to lounge at, or even to meditate with the sound of the waves in the distance and the peacocks in the fields to keep you company.
Perfect for couples and families, this resort is also a hot spot for those who wish to enjoy wellness retreats and spa treatments. Tariffs start at INR 11k.
Wildernest
Situated in a land unexplored, far away from the chaos of the touristy areas, Wildernest is the perfect break for those who love unwinding in nature. With temples, a meditation centre, nature trails, machaans and bullock cart rides, this resort is sought after by those looking for solitude and peace. The infinity pool here is gorgeous to say the least; with views of the surrounding lush green ghats that take your breath away, it provides guests with the opportunity to indulge themselves in the raw beauty of mother nature. This infinity pool is fed by a nearby waterfall, and if one does manage to leave the pool (it's tough, it really is! #truestory) there are plenty of nature trails around which lead you to the waterfalls.
The resort is eco-friendly, and tariffs start at INR 4K.
Rock Valley Goa
A jungle resort meant for adventure and nature lovers, Rock Valley Goa is a gorgeous property in Ponda. With premium wooden cottages and beautiful nature trails all around, this luxury resort is known for providing an indulgence within nature. The property hosts 3 pools, all of which are infinity pools with jaw-dropping views of the dense hilly slopes around.
This resort also has Goa's longest zipline, as well as natural waterfalls within the property. Tariffs start at INR 4k.
Capella Homestay
Capella Forest Retreat & Homestay is a boutique guesthouse in North Goa that is situated on a private, forested hill in the village of Parra. This homestay offers guests the opportunity of experiencing life with a family, balanced well with the privacy and comfort of a boutique hotel. A hit with nature lovers and bird watchers, this property boasts of an infinity pool that adds to the tranquil experience. Surrounded by lush greenery, this infinity pool is not only Instagram worthy, but also a serene space where you can unwind with a book and a loved one.
The property has 4 bedrooms, serves home-styled cooked meals and offers facilities for trekking, bird-watching and nature trails. It's perfect for a family, or even a getaway with bae! Tariffs start at INR 4k.
SkyHigh Villa
Luxury getaway with your squad? Check out SkyHigh Villa that lies at the end of a dreamy drive through Reis Magos. With tourist destinations being easily accessible, this ocean-front house is pure vacation goals with its sea-facing luxurious rooms, home-theatre and floating breakfasts in the infinity pool. With the sound of the waves and expansive views of the ocean, a dip in this pool on a lazy afternoon is what makes this villa life so picture perfect. They also serve a floating breakfast, a complete indulgence made up of eggs, toast, pancakes, juice, coffee, the works!
This 4 bedroom villa is one of the many villas under Scilla Villa. Tariffs start at INR 30k for a group of 8.
Acron Waterfront
A luxury hotel at Baga beach, Acron Waterfront is located right where the action is! The property offers an infinity pool, a temperature controlled jacuzzi, a spa, suites and private rooms and apartments, making this one a great hit with the families. The property is located right where the river meets the sea, and the infinity pool rewards guests with this beautiful view. The pool provides expansive views of the water, where you can enjoy watching birds catch their prey, or simply lay back to admire the beauty that is mother nature.
The hotel also provides facilities for water sports. Tariffs start at INR 3.5k.
Silver Sand Serenity
Silver Sand Serenity is a hotel in Candolim, and a preferred choice of holiday destination for families and large groups. It is one of the few hotels in North Goa that offers affordable luxury, excellent location and great services in such a prime area. With a multi-cuisine restaurant, a lounge, gym and an infinity pool, this hotel is ideal for relaxation and entertainment. The rooftop infinity pool here promises beautiful views of the lush greenery all around, and is best enjoyed during sunset.
The resort has premium rooms, deluxe rooms, suites and superior rooms, and tariffs start at INR 2.5k
Comments