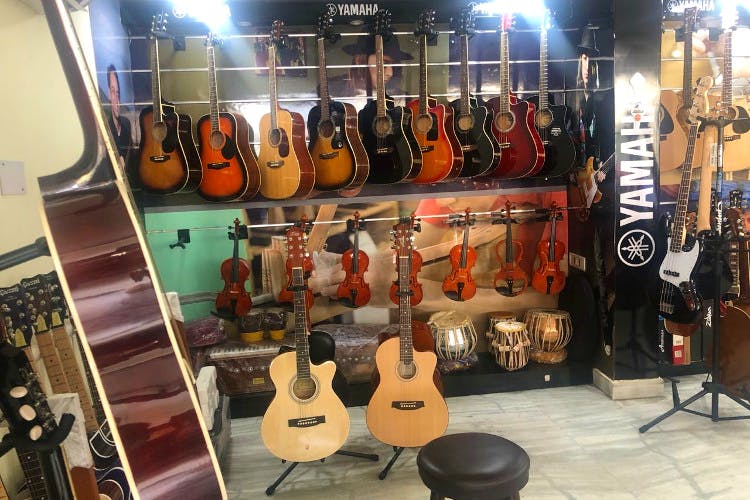 Music Enthusiasts, Pick The Right Notes With This Amazing Store In Madhapur
Shortcut
A V Musicals in Madhapur caters to all your sound instrument needs with their imported products and gadgets. Looking for a guitar or a drumkit? Here's your victor!
Great For
Musical Instruments, Guitar Straps, Karaoke Sets
What Makes It Awesome
Tucked away on the first floor of a building in Madhapur, A V Musicals is your one-stop shop for all things music. From acoustic and electric guitars, flutes, drum sets, keyboards, tanpuras, saxophones, dholaks, and tambourines — you can find it all. They have brands like Sonor, Basix (drums), Epiphone, ESP, B C Rich (guitars), Yamaha, Casio, Roland (keyboards) to name a few. The instruments are organised neatly, and they have a storeroom for drum kits, djembe, and other heavier instruments. Gadgets like tuners, capos, plectrums, headphone, guitar straps are also available here, so check out and master them beats, and tunes!
The flutes are the cheapest musical instruments at this store priced at INR 400, but they have a variety so vast that the prices for guitars and other music sets can fall anywhere between INR 20,000 to INR 1,00,000. The staff is friendly and on understanding your requirements, they will help you find the most comfortable kit. They also repair strings and keys at reasonable prices, and within an hour, for the most part.
More Information
Musical Instrument Stores
AV Musicals
Comments